Embassy of Switzerland in Kazakhstan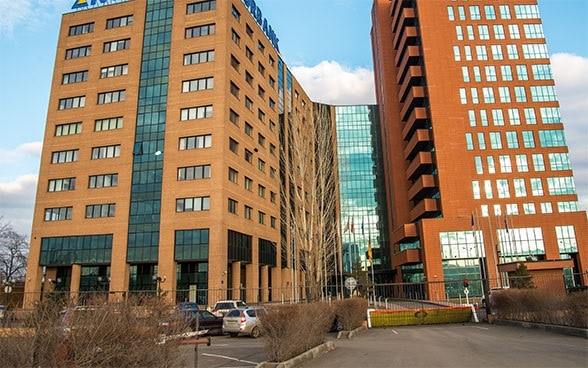 As the official representation of Switzerland, the Embassy covers all matters concerning diplomatic relations between the two countries. It represents Swiss interests in the areas of political, economic, financial and legal affairs, as well as science, education and culture.
Visa for Switzerland - Coronavirus (COVID-19)
Due to the current situation, relating to the Coronavirus outbreak, the Swiss Federal Council has decided on 18.03.2020 to suspend with immediate effect the issuance of all Schengen as well as national visas for Switzerland until 15.06.2020. From 15.06.2020, the situation is as follows:
Schengen, EU and EFTA countries: Switzerland has lifted the current entry restrictions on 15.06.2020 with regard to the Schengen, EU and EFTA states. From then, normal entry requirements will apply again to all citizens of a Schengen state, to persons with rights of free movement and to third-country nationals who do not require a visa and are already legally resident in the Schengen area.
Third countries: The Federal Council will decide on a regular basis and in consultation with the Schengen states on any relaxation of entry restrictions applicable to third countries. Until then, visa C applications for short stays under 90 days will only be authorized in cases of special necessity (as for example foreign health workers).
As from 6 July 2020 all COVID-19 related restrictions on the admission of employees and on stays of more than 90 days for third-country citizens are lifted. Such stays must be authorized by the competent cantonal migration office in advance.
From 8 February 2021, all travelers are obliged to provide a medical certificate of a negative test for the coronavirus (PCR test) that is no more than 72 hours old before their arrival in Switzerland. This certificate has to be presented at the airline's check-in counter at the airport of departure.
All foreign nationals including citizens of EU/EFTA countries who are already holders of a Swiss residency permit, a cross border permit or of a legitimation card, can still enter Switzerland upon presentation of their valid residency permit. Swiss citizen can enter Switzerland at any time.
Public announcement of the Swiss Federal Council in German
Public announcement of the Swiss Federal Council in French
Public announcement of the Swiss Federal Council in Italian
Appointments for visa issues:
The visa section of the Swiss Embassy in Nur-Sultan remains open. VFS Global Visa center in Nur-Sultan and Almaty suspended their services.
Visa at the counter will, until further notice, only be provided in urgent cases and exclusively when an appointment has been agreed upon in advance. As before, the Embassy can be reached over the telephone or by Email: nur-sultan@eda.admin.ch
Consular services for Swiss Citizens - Coronavirus (COVID-19)
The Swiss Embassy in Nur-Sultan remains open for consular activities. However, during the crises prior appointment must be agreed upon for services at the counter. As before the Embassy can be reached over the telephone or by Email:
Information about a new coronavirus
For information regarding the coronavirus, please refer to the information and recommandation provided by the local authorities, as well as the official website of the WHO, the website of the Swiss Federal Office of Public Health and the Swiss website Safetravel.
Swiss Federal Office of Public Health (german)
The situation in Kazakhstan can be monitored from the Ministry of health (in Russian).
Important Note for Travelers to Kazakhstan
Please consider the travel advice of the Federal Department of Foreign Affairs. For visa questions please get in touch with the Kazakh Representation responsible for your permanent place of residence.
Link to Travel advice FDFA: Deutsch Français Italiano
Swiss travelling at the moment in Kazakhstan or Tajikistan are invited to register through the EDA Travel Admin application