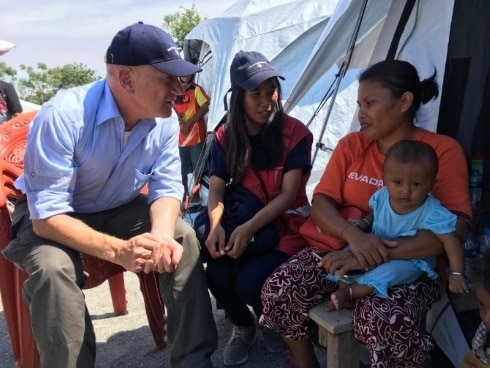 For the last three weeks, Switzerland has been providing emergency assistance to the communities affected by the earthquakes and tsunami that struck Central Sulawesi on 28 September 2018.  Several experts of the Swiss Humanitarian Aid Unit have been deployed to Palu. They set up 300 family tents in three camps located between Palu and Dongala. In those camps, Switzerland provided latrines and bladders with 5'000 litres of drinking water.   
Switzerland sent more than 30 tons of relief items to Palu. Most of them were donated to the Indonesian Red Cross (PMI). The donation includes 40 multipurpose tents, 800 tarpaulins, 600 mosquito nets, 300 kitchen sets and cleaning kits. PMI also received water treatment devices which can supply up to 200'000 people with potable water every day. Experts of the Swiss Humanitarian Aid Unit organised training with PMI staff. Switzerland contributed USD 500'000 to the emergency appeal of PMI and the International Federation of Red Cross and Red Crescent Societies (IFRC). 
In total, Switzerland allocated USD 2.5 million for its humanitarian activities in Lombok and Sulawesi, out of which USD 1'670'000 have already been disbursed.
Contact for media enquiries:
FDFA Information
Federal Palace West,
3003 Bern
Phone +41 (0)58 462 31 53
Fax +41 (0)58 464 90 47