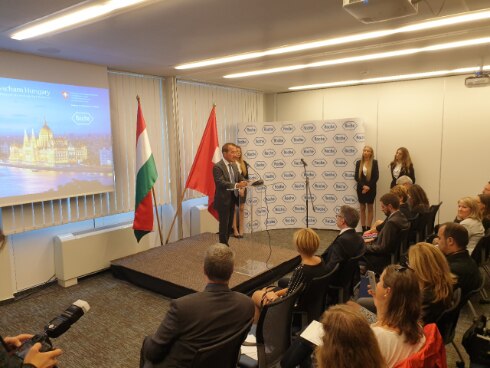 Vice- Foreign Minister Levente Magyar was very pleased, that Hungary was able to succeed in the international competition as an investment location. This investment will create jobs for another 25 highly qualified people, who will be able to create a high value-added.
The new Hub will systematically monitor and evaluate the information, which is being recorded during the medical treatment of patients. In this way, it will be integrated into the improvement of existing and the development of new pharmaceuticals.
Ambassador Peter Burkhard highlighted the great importance of the pharma sector for his country. With this investment decision, Hungary will further be integrated into the research and development activity of a global leader in the field of innovations and will be able to come closer to become an innovation site itself.
Roche Hungary celebrates its 35rd anniversary and increased its staff from 5 to over 1000 during this period. According to Irma Veberic, the CEO of Roche Hungary, the company reinvests two thirds of its revenues in the country.