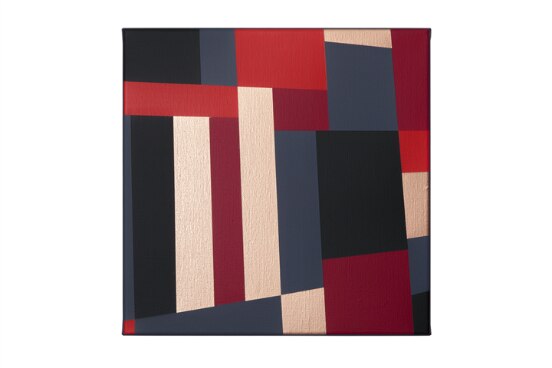 The group exhibition of Rita Ernst (1956, Windisch), István Haász (1946, Gönc) and András Wolsky (1969, Budapest) 'Inter-Space' is another stage in the fruitful relationship between Swiss and Hungarian constructivist art, which creates an opportunity for an exciting dialogue between the different generations and nationalities of European constructivism.

Rita Ernst, who lives and works in Zurich and Palermo, draws inspiration from Italian architectural traditions. Her art is inspired by the floor plans and ornamentation of antique buildings, deconstructing and further developing them in her compositions. In spite of the varied use of colors and the romantic effect of ornamental shapes, one can discover the neat, precise clarity and repetitiveness in her works that characterizes Swiss concrete art.

Haász gives greater scope to variability in his art. The rhythmic structures that define his work, while essentially suggesting balance and stability, also create a sense of constant change. He displays geometric connections, creating sophisticated space and shadow systems. His works examine the relation of surfaces and their effects on space, while exposing the playfulness of light and shadow and the narrative power of colors.

András Wolsky's works are created by a previously established system of rules, generated chance and time. His set of rules, which limits the infinite possibilities of chance to a narrow framework, produces layers of time, thus making the artwork visible. His works are the result of curious phenomena that are independent of the artist, the collision of a geometric order and the unpredictable.

The three exhibiting artists thus build on the same constructivist tradition but reinterpret it in different ways. We could also say that they speak the same geometric abstract visual language but its different dialects.

Opening: 4 December 2019, Wednesday, 6 p.m.
Opening speech: Dóra Maurer
Curator: Annamária Molnár and András Wolsky
On view until: 8 February 2020, from Tuesday to Friday, 12 p.m. to 6 p.m., on Saturday 11 a.m. to 5 p.m.