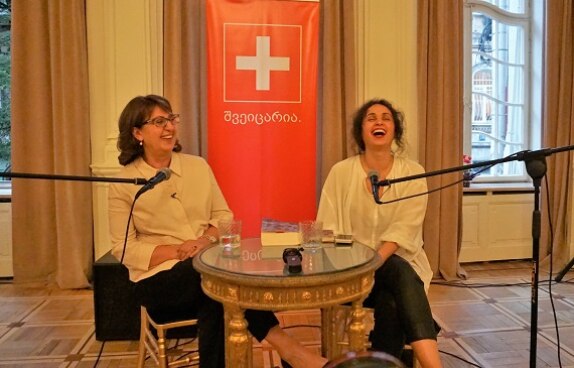 Maia Panjikidze, former Georgian Minister of Foreign Affairs and the Georgian translator of "I am not Stiller" together with Natia Panjikidze, a psychologist, discussed and analysed Max Frisch's masterpiece.
"I am not Stiller!" – is the first opening sentence of the book, as well the centrepiece and recurring theme of the third and most famous of Frisch's novels.
"Over and over again, I have been asking my mother to translate Frisch's "I am not Stiller" and every time my request would be left unanswered. I was not the only one. Max Frisch was a dear friend of my mother and I remember him asking her to translate this novel. Although she translated into Georgian his other two novels: "Homo Faber" and "Gantenbein", Max and I failed to convince her to translate "I am not Stiller". So, imagine, I was more than happy to hear that my sister [Maia] got down to the translation of one of my favourite books!" Natia Panjikidze shares her memories with the audience.
"This is my book. But when you read, you will realize that this is your book. This is everybody's book," she adds.
"I am not Stiller" was translated by Maia Panjikidze with the support from Arts Council Pro Helvetia and published by "Bakur Sulakauri Publishing House" in 2017.
The evening was organized within the framework of the "Month of the German language" which has been celebrated in Georgia since 2013 and aims at fostering multilingualism and the spread of the German language through a diverse cultural program.