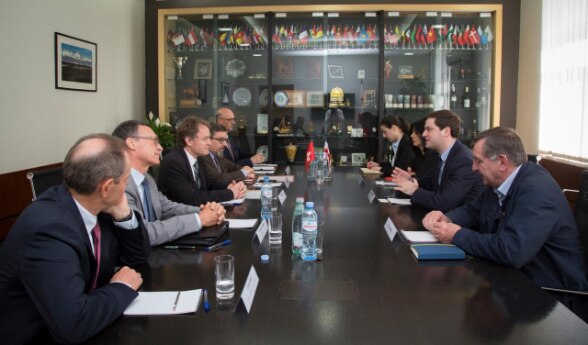 On 4 May, a Swiss delegation headed by the Ambassador Manuel Sager was received by the First Deputy Minister of Environment Protection and Agriculture Mr. Nodar Kereselidze. The parties discussed the development priorities of the agriculture sector in Georgia and opportunities for continuous cooperation.  
"Development of agriculture is a priority for the Government of Georgia. Switzerland with UNDP, FAO, Mercy Corps and HEKS/EPER support Georgia in accelerating progress in this sector. With the First Deputy Minister we have discussed issues concerning small and medium enterprises, the role of sector associations, the transfer of knowledge and technical skills to farmers, as well as the introduction of new standards and regulations. These issues are important for increasing the productivity and competitiveness of Georgian agriculture. Overall, I am very satisfied with our engagement, partnerships, and cooperation for agriculture in Georgia, and SDC looks forward to continuous progress in this respect," Manuel Sager said.
On the same say, the Ambassador Manuel Sager met with the Minister of Education and Science Mr. Mikheil Chkhenkeli. The parties discussed the ongoing education reform in Georgia and the increased role of vocational education in this reform. They exchanged views on the ways how to make vocational education more responsive to the needs of the private sector, which will reduce youth unemployment in the country and contribute to increasing their incomes.
"Switzerland has been supporting the development of the vocational education system in Georgia since 2012. Together with UNDP we closely collaborate with the Ministry of Education and Science to increase the quality of vocational education in the country and make it more tailored to the needs of the private sector. It will increase employment and incomes of youth, thus contributing to improving the attractiveness of vocational education in general. Switzerland has a long established vocational education system, which contributes to keeping the youth unemployment rate low. We are sharing relevant practices and examples with Georgia as possible inspiration for continuous progress, and SDC looks forward to further cooperation and support to this important agenda" Manuel Sager said.