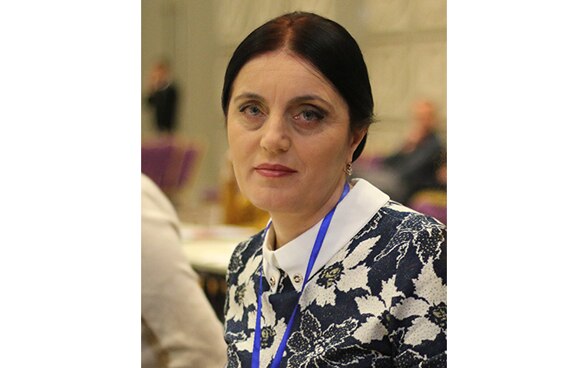 Shushana from Georgia
A Georgian word "diasakhlisi" (a housewife) is referred to a woman who manages household chores and takes care of her family. When we met with Shushana Putkaradze at the Women's Business Forum held in Ajara Autonomous Republic in January 2017, she presented herself as a teacher, an entrepreneur and a housewife, by the latter she meant taking care of her guests.
49 years old and a mother of three, Shushana is a role model for many in the Paposhvilebi village, Suakhevi in the upper Ajara. A place with a picturesque landscape, flora and fauna has always been a subject of pride among locals. Over recent years the village has become a destination for many tourists as well. With a growing number of visitors there sprang a need for a comfortable accommodation. It was only then and out of need for more income that Shushana started to flirt with the idea to register a guest house.
"It was my idea and would remain an idea if not unwavering support from my family," says Sushana. "We – my husband and I, and our three kids – shared roles and functions, as we could not afford a helping hand. Customers' service was an unfamiliar notion for us, so we treated all as family guests. They enjoyed staying with us and being involved in agricultural activities: milking, cheese making and harvesting. In no time our small house became a popular place to stay in."
Popularity brought more tourists and a need for expansion. Shushana decided to apply for the Georgian Government's grants programme "Produce in Georgia".
"I had a goal but also a big challenge before me – I did not know how to write a business proposal. I've tried many times but all for naught. Finally, in 2016 with the help of a Women's Room at the Shuakhevi municipality I wrote a successful business proposal that received a grant worth GEL 10'000. With this money I expanded my business, bought household items and furniture."
The guest house "Mareti" is the main source of income for the Putkaradze's family and the only source of income for some neighbours from whom Shushana buys milk and other agricultural products.
"This business is not only source of income for me, but source of new friends and new opportunities as well. I encourage all the women in my village to start a business, have their own income as it will boost their self-confidence and keep their families in the village."
Women's Rooms were supported by the SDC-funded ALCP programme with an aim to increase women's participation in decision-making.  The Rooms serve as a resource and consultancy space, where local women can get access to municipal information and services including on health care and agricultural programmes.