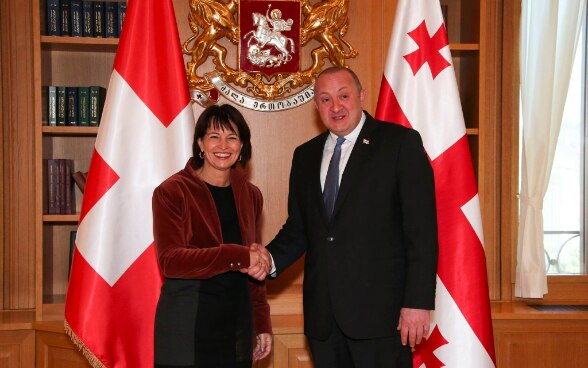 An official ceremony in the presence of the diplomatic corps took place at the Presidential Palace on 4 December. The Presidents of Georgia and Switzerland recognized the solid and trustful bilateral relations and discussed new opportunities of cooperation. President Giorgi Margvelashvili stressed the importance of Switzerland's good offices and mediating role with regard to Georgia-Russia relations. Swiss-Georgian economic relations and Switzerland's development cooperation activities were also emphasized at the meeting.
"This year marks the 25th anniversary of diplomatic relations between Georgia and Switzerland. For the past 25 years, Switzerland has supported the democratic development of Georgia. We are glad to see the progress Georgia has made so far. I applaud your Government because your reforms are really remarkable. The Free Trade Agreement between Georgia and Switzerland will officially enter into force in spring 2018 and I am certain that many Swiss investors will get interested in Georgia's market," President Doris Leuthard stated during the press conference at the Presidential Palace.
The President went on to note Georgia's ambitions in terms of infrastructural projects and underlined that Switzerland, as a major logistics hub with the longest railway tunnel in the world, can share its experience and expertise. "Georgia and Switzerland can further develop bilateral relations in a number of areas, namely mountain tourism development, agriculture and energy. In this context, the Swiss cooperation strategy to last until 2020 is important and highly relevant," the President added.
Political as well as economic relations were the key topics discussed between the Swiss President and the Prime Minister of Georgia, Mr. Giorgi Kvirikashvili.
"Madame President, I am very pleased to host the President of a country which is, first of all, a great friend for Georgia, and also a very important one. We are very glad and welcome the rising bilateral connections between Switzerland and Georgia. We are very glad to notice also the increasing trade and investments, and it is something we are committed to build a full-fledged bilateral partnership with your country," Giorgi Kvirikashvili addressed Doris Leuthard. The Prime Minister introduced the President of the Swiss Confederation to the details of the Government's four-point agenda, the country's economic statistics and leading positions in international rankings.
Switzerland's support to democratic development and decentralization was the focus of the meeting with the Parliamentary Chairperson Irakli Kobakhidze. Mr. Kobakhidze thanked Switzerland for its effective mediation between Georgia and Russia. He also expressed his hope that the President's visit would give impetus to the bilateral cooperation.
During her visit, Ms. Leuthard met with representatives of the Swiss business community operating in Georgia and laid a wreath at the monument on the Heroes' Square in Tbilisi.