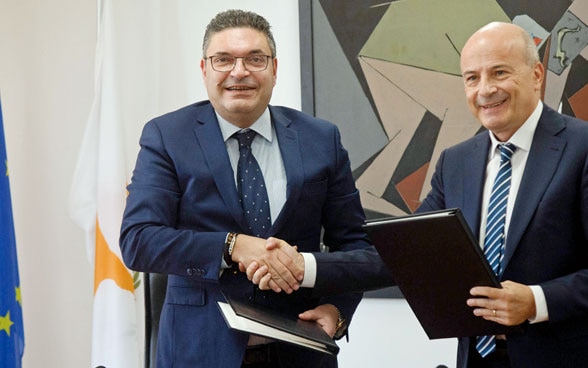 The second Swiss Contribution to selected EU member States sets out to foster European cohesion and supports countries that face exceptional migration challenges. On 12 December 2022, Swiss Ambassador Christoph Burgener and Minister of Finance Constantinos Petrides signed in Nicosia the Implementation Agreement for Switzerland's cohesion support to Cyprus. Three projects will be co-financed with 5.2 million Swiss francs, thus bringing the total value of Swiss assistance under the second contribution to 15.2 million Swiss francs. In October 2022, the two countries had concluded in Berne a first Implementation Agreement of 10 million Swiss francs to support migration management.
Enhancing institutional partnerships
"The Swiss contribution presents an excellent opportunity to further strengthen bilateral cooperation", said Ambassador Burgener at the signing ceremony. The jointly supported programmes provide a pathway for enhanced institutional cooperation and expert exchanges between Switzerland and Cyprus, in addition to the financial support. The project addressing needs of victims of gender-based violence will be implemented by the Association for the Prevention and Handling of Violence in the Family. The Karaiskakio Foundation will be supported in the establishment of a Multidisciplinary Center of Expertise benefitting people living with rare diseases and their families. A contribution will be made to support the work of the Committee on Missing Persons (CMP), which helps to bring closure to families of missing persons from both communities.
Second Swiss Contribution
The second Swiss Contribution has a total value of CHF 1.302 billion and an implementation time frame until 2029. On June 30 2022, Switzerland and the EU signed a Memorandum of Understanding in Brussels, specifying key parameters of the contribution, such as the amount, its distribution among the partner countries, thematic priorities and principles for cooperation and implementation.