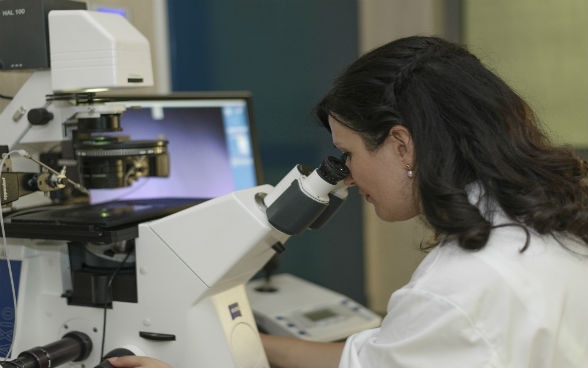 Magdalena Rovinska-Zyrek from Poland did a residency at the University of Zurich to conduct research in bioinorganic chemistry. This residency allowed her to expand her area of research and learn new techniques that are useful to the work she is currently doing at the Wrocław University of Technology in Poland. 
Experience gained at different research institutes, some of them abroad, is often a prerequisite for an academic career. A research residency not only sharpens the individual skills of scientists, but also promotes academic exchange, making it possible to develop new approaches to research. As the costs are very high, many young academics from the new EU member states cannot benefit from this exchange. 
The Sciex scholarship programme (Scientific Exchange Programme between the New Member States and Switzerland) supported by Switzerland's enlargement contribution made it possible for young researchers to do a residency at a Swiss university. The programme makes an important contribution to strengthening the research competence of the countries involved. Switzerland contributes its strengths in the field of education and research and simultaneously strengthens its ties with the academic networks in the new EU member states. 
Markus Dürst, the SDC officer responsible for Sciex, describes the programme as a success. It is a good example of an enlargement contribution project, as it not only offers better professional prospects for committed young researchers, but also promotes stronger and longer-term collaboration between Switzerland and the partner countries, he said. 
Coordination by Rectors' Conference of the Swiss Universities (swissuniversities)
Switzerland supports the programme with CHF 46.8 million in the following countries: Bulgaria, Czech Republic, Estonia, Hungary, Latvia, Lithuania, Poland, Romania, Slovakia and Slovenia. The programme is coordinated by the Rectors' Conference of the Swiss Universities (swissuniversities). 
The closing ceremony on 25 September 2015 focused on the successes of the Sciex programme, with residents from different areas of research and mentors at the Swiss universities reporting on their experiences.
Dossier (incl. Interviews with Sciex Fellows, Images, and Films)