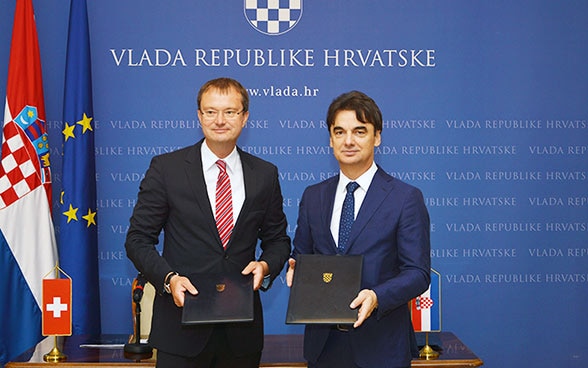 The framework agreement sets out the objectives and size of the contribution as well as the most important implementation provisions. With the signing of the agreement, Switzerland has formally approved project ideas that were previously proposed by Croatia and discussed by the two countries. The Croatian partners will now develop the project ideas further. Switzerland must give its final approval for all projects in Croatia by 31 May 2017 at the latest. 
Reintegration of landmine victims 
Several water supply and waste water collection and treatment projects will be supported. In addition, both countries are seeking to cooperate in the areas of research and vocational training. Furthermore, as in other partner countries, a fund for non-governmental organisations (NGO fund) and a partnership fund are planned with a view to strengthening civil society. In addition, Switzerland aims to support Croatia's demining efforts in regions scarred by the war and in particular to reintegrate landmine victims into society. 
Croatia became the 28th member state of the European Union (EU) on 1 July 2013. In order to reduce economic and social disparities in the enlarged EU, Switzerland decided to independently allocate CHF 45 million to fund various bilateral cooperation projects in Croatia. With the enlargement contribution Switzerland strengthens its economic and political ties with Croatia.
Legal basis: Eastern Europe Cooperation Act 
Through the enlargement contribution, Switzerland helps reduce economic and social disparities in the enlarged EU. Since 2007, Switzerland has contributed CHF 1 billion to projects and programmes in the ten states that joined the EU in May 2004. Bulgaria and Romania, which joined in 2007, will be supported with an additional CHF 257 million. The legal basis of the enlargement contribution is the Federal Act on Cooperation with Eastern Europe, which was approved by the Swiss people on 26 November 2006. The parliament has approved the framework credit based on this legal foundation.