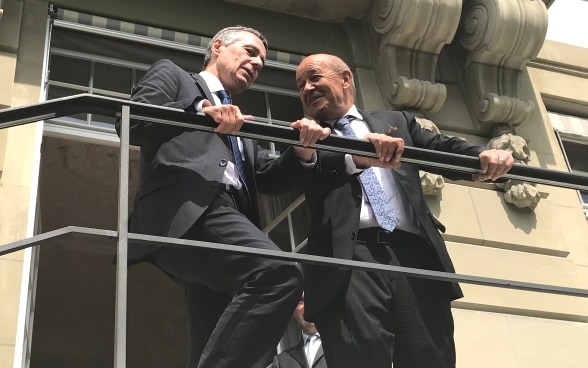 Following on from their first meeting in Paris at the end of 2017, Mr Cassis, head of the Federal Department of Foreign Affairs, and his French counterpart, Jean-Yves Le Drian, met once again for a working lunch in Bern. Both ministers highlighted the importance of the very good relations that France and Switzerland have enjoyed for many years, covering various fields and characterised by regular contacts at different levels.
At their meeting, Mr Cassis briefed Mr Le Drian on the most recent developments in Switzerland's European policy. In addition, the two officials touched on the future of the EU and the challenges it currently faces. Also discussed were international issues such as the situation in Libya, Iran and in the Middle East. Mr Cassis reiterated Switzerland's readiness to engage with other European countries in order to tackle the challenges of migration in the Mediterranean.
With a trade volume of CHF 35 billion, France is Switzerland's fourth largest trading partner, while Switzerland is the fourth largest foreign investor in France. Some 127,000 French nationals live in Switzerland, while more than 190,000 Swiss nationals live in France. An additional 170,000 French nationals cross the border every day to work in Switzerland – more than half (55%) of all cross-border commuters to Switzerland.
---
Further information:
Bilateral relations Switzerland – France

---
Address for enquiries:
Information FDFA
Bundeshaus West
CH-3003 Bern
Tel.: +41 58 462 31 53
Fax: +41 58 464 90 47
E-Mail: info@eda.admin.ch
---
Publisher: