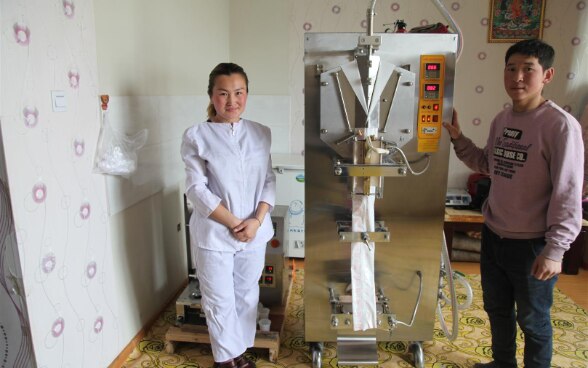 In his early 20s, Ya. Chagnaadorj found himself at a crossroads in life. Unable to afford college tuition fees, he was forced to leave his accountancy studies, only to find himself unemployed and with little idea of what to do with the rest of his life.
As a herder, he realised that accounting wasn't his true calling, but his college stint did enable him to meet his future wife, O. Bayasgalan.
Returning to Bayankhongor, he helped his parents with herding. This sparked a desire to start his own business, but unlike his parents who were nomadic herders, he opted for settled dairy farming, setting up his operation with six milking cows. His decision to abandon nomadic herding was based on his parent's hard experiences during severe winter "dzuds", which caused the loss of many of their livestock .
Chagnaadorj married Bayasgalan, and the pair laboured from sunrise to sunset, but to their disappointment their household income proved to be barely enough to cover the basic costs of living (MNT 800,000 per month). Their cows produced just 3 litres of milk in winter and 8 litres in summer, and they were unable to sell the excess milk in the summer months because of the already high market supply and limited marketing opportunities.
It was during this period that Chagnaadorj received a call from the local Career Guidance Centre, inviting him to come for a visit.
For A. Enkh-Amgalan, a counsellor at the Career Guidance Centre in Bayankhongor Polytechnic College, it was but one of many calls she made daily to local unemployed young people.
It may have been a routine call for her, but for Chagnaadorj it was a turning point. Enkh-Amgalan advised the couple to enrol in a one-year intensive vocational training programme on integrated crop and livestock farming.
They did, and have since been applying the knowledge they gained to their business. Now, Chagnaadorj and Bayasgalan are hard at work on their rapidly expanding enterprise. Their herd of milking cows has grown to 20, and they're producing more than 50 percent more milk as a result of silage and concentrated fodder. They also now employ two farm workers.
They began experimenting with frozen yoghurt, which met with approval from their instructor: "Tasting their new product – the frozen yogurt Babuulai - was a tasty reward for my teaching."
Their monthly income has risen to about MNT 2.8 million, with the potential to increase even more in the summertime.
But of all their successes, nothing has been more rewarding than winning a MNT 10 million grant from the Youth Start-up Programme Mongolia in October 2016 in Bayankhongor.
The grant allowed them to buy such much-needed equipment as a multi-functional pot, a refrigerator and the material required to expand production of their packaged yoghurt.
Chagnaadorj also plans to produce powder milk, ice cream and other dairy products for local consumption and eventually for sale in Ulaanbaatar.
"Always remain true to your ideas and your interests; never give up, never stop learning and always work hard," is their advice for others embarking on their business dreams.
Chagnaadorj is but one of many young people to have benefited from SDC's multi-faceted programmes aimed at increasing the employability of young people by supporting vocational education and training, offering career guidance counselling to job-seekers, and supporting youth-initiated start-up businesses.