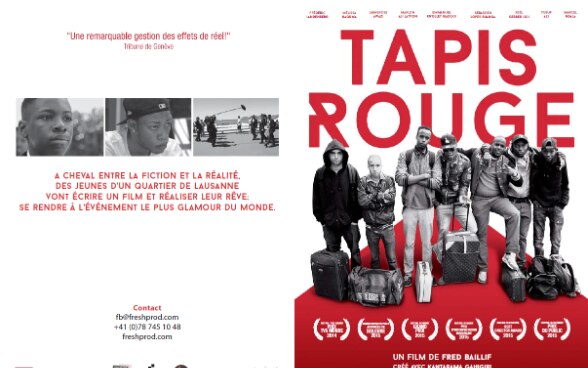 Switzerland is present at the 22nd Athens International Film Festival, Opening Nights with the film "Tapis Rouge"by Fred Baillif and Kantarama Gahigiri.
The screening will take place at the Greek Film Archives venue (Iera Odos 48 & Meg. Alexandrou 134-136, Kerameikos - METRO Kerameikos) on September 23, 2016 at 18:00 within the scope of the Minority Report Section of the Festival with the presence of Mrs. Kantarama Gahigiri, co-director of the film. The audience will have the opportunity to discuss with Mrs. Gahigiri after the screening.
Free entrance
Synopsis
Thanks to a social worker's encouragement, a group of young people, all descendants of second generation immigrants and living in the less privileged Lausanne quarters, write their own screenplay and go all the way to Cannes to find a producer to finance their film. A very sweet road movie about the right we all have to dream and seek better opportunities in life.