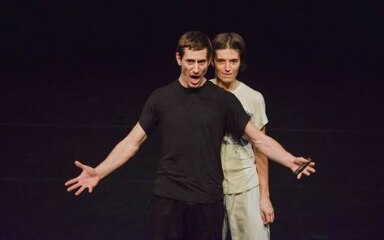 The Cie Ioannis Mandafounis will be in Athens and Patras within the framework of his European tour to present "ApersonA"
With the support of the Swiss Arts Council Pro Helvetia. 
"ApersonA" by Mandafounis, Giannotti & Vallon
For his new creation, Ioannis Mandafounis takes inspiration from "recitative," generally meaning the part of an instrumental work that is descriptive or dramatic; and in dramatic music the singing is intoned freely, and the melody and the rhythm follow the natural inflections of the spoken phrase. Transposed to the field of dance, the recitative constitutes the frame of ApersonA as an underlying principle. Here, movement punctuates musicality.
For more information: