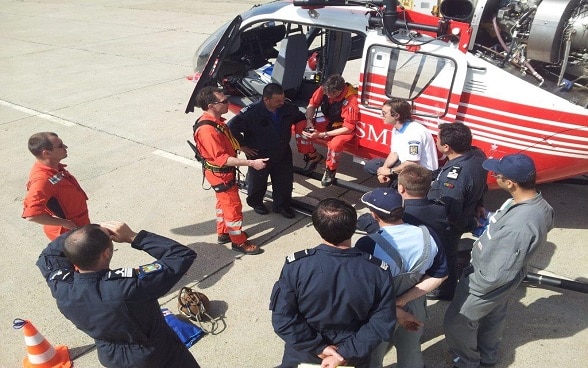 Switzerland's support for Romania's emergency services has steadily changed and developed over the years. A wide range of projects have been implemented: new training centres for specialist medical staff, a complete overhaul of the syllabus for becoming an emergency medicine specialist and courses on improving the management of A+E units.  Switzerland has also financed the purchase of new medical devices and training courses on how to use them. Thanks to this long-term cooperation, Romania has been able to implement legal reforms and guidelines for its emergency medical services. Under Switzerland's contribution to the enlarged EU, two projects have been implemented:
Rega training for pilots in the Romanian air rescue service
In the past, there have been serious accidents during air rescue operations in Romania.  As a result, the Romanian Mobile Emergency Rescue and Resuscitation Service (SMURD) requested Swiss Air-Rescue (Rega) to carry out training sessions.
Rega trains Romanian air rescue service staff in new aeronautical procedures, communication, organisation, security management and organisational culture. This should increase the safety, efficiency and speed of rescue operations to avoid losing vital time when responding to accidents.  That is also why prospective instructors at the Romanian rescue service take part in Rega medical training courses. In addition, Romanian air rescue service staff undertake training sessions in a flight simulator at the Swiss Air Force training centre at the military air base in Emmen. This project came to a close at the end of 2016.
Better healthcare through simulation-based training
Developing simulation-based training in anaesthetics and intensive care – two high-risk areas with a minimal margin of error – is helping to improve Romania's healthcare system. Simulation-based medical training has seen rapid progress in the last two decades and is now included in a number of syllabuses for a range of specialisations. The Romanian health ministry plans to develop the country's existing facilities for simulation-based training, review its training materials and adapt training modules to include simulation training techniques.
Learning via simulation-based training
Unlike at school, learning in a simulation centre has an experience-based approach: by taking part in a simulated scenario, students gain practical experience that is relevant for routine clinical work. Students that are not actively taking part in the simulation can follow the event via live transmission. Those who did take part can then use the video to observe how they performed. This is key for a joint discussion and analysis on which ideas, actions and processes have proven to be successful and which ones need to be changed. Simulation-based training is particularly useful for changing routines that are well-established but not effective. The project will come to a close in 2019.
Switzerland and Romania celebrated their successful long-term cooperation in developing Romania's emergency services with a large-scale anniversary concert in Bucharest at the beginning of July.