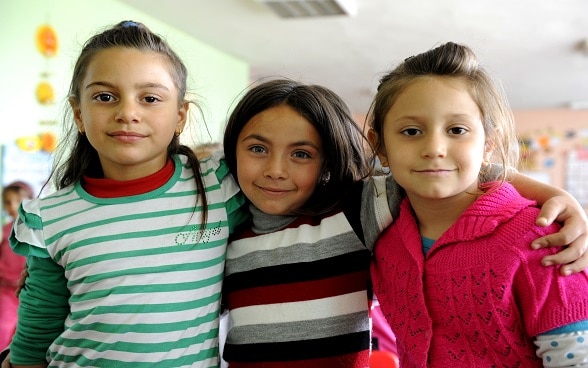 The 2018 annual report focuses on the projects still under way in Bulgaria, Romania and Croatia. The other ten partner countries covered by the enlargement contribution completed their projects by 2017.
Impressive results
Switzerland's engagement in Bulgaria, Romania and Croatia has produced tangible results:
Over 10,000 Roma in Bulgaria and Romania now have better access to public health and education services.

A Swiss firm has delivered 28 decommissioned trams from Basel's transport system to Sofia. In addition, a plan was drawn up to promote more sustainable mobility.

In Romania, 82 farming businesses and wood furniture manufacturers received training in marketing and management. Their products were analysed, and quality assurance standards such as organic certification were introduced.

In Croatia, a total of 3,585 landmines have been cleared in the Kotar-Stari Gaj forest. This corresponds to around 10% of the total number of landmines still thought to be left over from the war in Croatia. 
The projects in Bulgaria and Romania run until 2019 and those in Croatia until 2024.
Decision in principle to make a second contribution
Following a consultation which produced largely positive feedback, the Federal Council decided in 2018 to approve the dispatch on a second Swiss contribution to selected EU member states. The second contribution, again for just over CHF 1.3 billion, is intended to use Swiss expertise to reduce economic and social disparities and improve the management of migration flows in the EU.
The decision on the associated framework credits lies with Parliament. The second Swiss contribution was approved by the Council of States in November 2018 and by the National Council on 18 March 2019. At the same time, the two chambers also imposed a condition on implementation, namely that no commitments would be entered into with respect to the framework credits if and for as long as the EU continues to adopt discriminatory measures against Switzerland. Specifically, this refers to stock exchange equivalence.