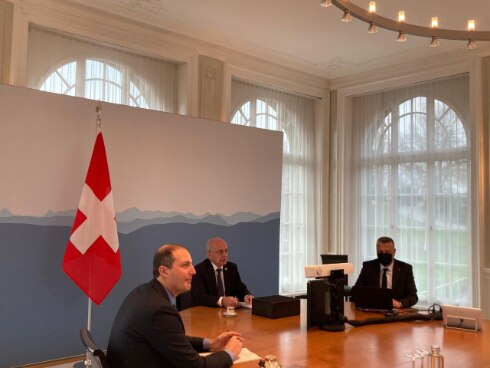 As part of the Geneva Dialogue on Responsible Behaviour in Cyberspace, November's virtual high-level event on "Boosting Confidence and Productivity through Secure Digital Technology" took place in the context of an ongoing global COVID-19 pandemic.
Digital technologies will play an important role in supporting the economic recovery from COVID-19. As a precondition to reap the benefits of the digital transformation, cybersecurity and trust in digital technologies therefore become ever more important. Common, inclusive and practicable solutions are needed.
As the operational hub of the UN system and with its network of International Organizations, Permanent Missions, civil society, private sector initiatives and academic institutions active in Digital Governance, International Geneva provides an optimal basis to safeguard ethical standards and strengthen trust in digital technologies.
In this spirit, the Geneva Dialogue convenes governments, industry actors, civil society and academia to implement internationally recognized norms to achieve greater security and stability in cyberspace. In its current second phase, the Dialogue facilitates the exchange among business from different world regions to develop its capacities to understand, implement, and meaningfully contribute to international policy through guidelines for secure digital product and services.
The Geneva Dialogue thereby complements ongoing international policy and diplomatic processes: The majority of cyber-attacks exploit vulnerabilities in digital products and services. While there is a lively international debate about the responsibility of governments to establish baseline requirements for cybersecuri­ty, there is a risk that in the meantime businesses pursue divergent industry practices.
In his opening statement, Federal Councillor Ueli Maurer invited stakeholders from all over the world to join this important initiative:
"As the first multi-stakeholder process of its kind, the Geneva Dialogue complements international discussions on cybersecurity and stability. It brings together the practical experience of world-leading corporations from different sectors in designing and maintaining secure digital products and services. Keeping true to Switzerland's traditions, the Geneva Dialogue has been developed as a bottom-up and inclusive process that encourages all stakeholders to find common solutions. I encourage stakeholders around the world to follow and join this initiative as we move forward. We need to intensify our efforts to make digital technologies more secure if we want to emerge stronger from this crisis."
The Geneva Dialogue is hosted by DiploFoundation and the Swiss Confederation. The initiative is part of Switzerland's international engagement to contribute to a free, open and secure digital space and to strengthen neutral, inclusive, multi-stakeholder cooperation forums (Switzerland's Digital Foreign Policy Strategy 2021-24).
Video recording of the Geneva Dialogue on Responsible Behaviour in Cyberspace
For more information on the Geneva Dialogue on Responsible Behaviour in Cyberspace, 
please visit https://genevadialogue.ch/