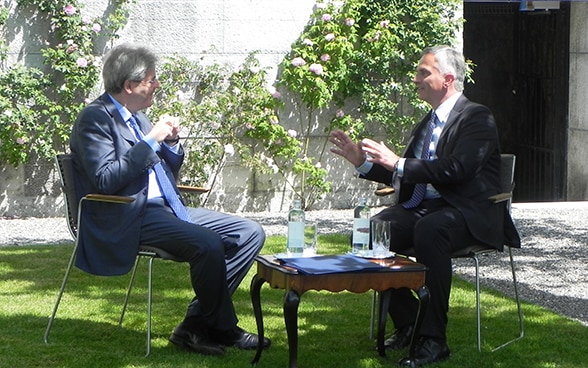 Ties between Switzerland and Italy have traditionally been close. The two countries not only have a national language in common; Italians are the largest foreign community in Switzerland. The central location of the Swiss and Italian pavilions on the grounds of Expo Milano is a testament to the close ties of friendship between the two countries. Expo Milano was one of the topics Mr Burkhalter discussed with Mr Gentiloni. They also spoke about the opening of the Gotthard base tunnel and the significance of the New Transalpine Rail Link both for Europe and for relations between Switzerland and Italy.
The two foreign ministers also welcomed the agreement on finance and taxation which was signed by Federal Councillor Eveline Widmer-Schlumpf and Italian Minister of Economy and Finances Pier Carlo Padoan in Milan on 23 February 2015.   In this context, Mr Burkhalter and Mr Gentiloni expressed their confidence that a new cross-border commuters agreement, which they described as a central bilateral agreement between the two countries, will soon be concluded. Mr Burkhalter noted that a solution in the area of finance and taxation will also open the doors to closer economic relations between Switzerland and Italy.
The situation in Europe and Switzerland's policy on the European Union was another topic addressed by the two foreign ministers. Specifically, Mr Burkhalter informed Mr Gentiloni about the status of the implementation of the initiative against mass immigration.
They also discussed the problem of migration in the Mediterranean area, in particular the question of the redistribution of refugees who reach Europe through Italy. Their talks also focused on the situation in North Africa and the Middle East.
---
Further information:
Bilateral relations Switzerland – Italy
Expo Milano 2015 – Swiss Pavilion

---
Address for enquiries:
Information FDFA
Bundeshaus West
CH-3003 Bern
Tel.: +41 58 462 31 53
Fax: +41 58 464 90 47
E-Mail: info@eda.admin.ch
---
Publisher: