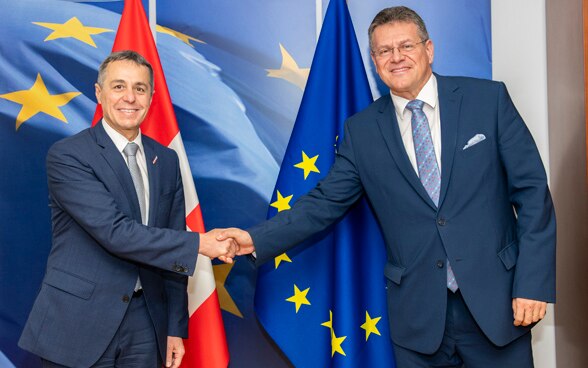 Mr Cassis reiterated that Switzerland seeks to pursue the bilateral approach and inject positive momentum into relations between Switzerland and the EU. Mr Cassis and Mr Šefčovič agreed to set up structured political dialogue at ministerial level and affirmed their shared objective, which is to take stock of the current situation and define a common agenda. This common agenda would then be discussed at the next meeting, which is scheduled to take place in January on the margins of the World Economic Forum annual meeting in Davos. 
The implementation of Switzerland's second contribution to selected EU member states was also discussed. Mr Šefčovič welcomed the Swiss Parliament's decision to release the contribution on 30 September 2021, and both parties confirmed that Switzerland and the EU have technically reached an agreement on the memorandum of understanding. This means that the parties' internal procedures for approving the MoU can now be initiated.
The topic of Switzerland's associated status with regard to the Horizon 2021–27 package and Erasmus+ was also broached. Mr Cassis stressed that from Switzerland's perspective, it makes no sense and is actually counterproductive to link unrelated market access and cooperation agreements for political reasons. It could also undermine Europe's appeal as a research location. Switzerland is ready to negotiate immediately in line with the rules laid down in the cooperation agreements.
Mr Cassis and Mr Šefčovič agreed that relations between Switzerland and the EU were extremely important and reaffirmed their intention to cooperate constructively.
Following the talks with Mr Šefčovič, Mr Cassis also met with members of the Swiss Parliament's EU/EFTA delegation in Brussels for the 40th EU-Switzerland Interparliamentary Meeting. This meeting also focused on Swiss–EU relations.
---
Further information:
---
Address for enquiries:
FDFA Communication
Federal Palace West Wing
CH-3003 Bern, Switzerland
Tel. Communication service: +41 58 462 31 53
Tel. Press service: +41 58 460 55 55
E-mail: kommunikation@eda.admin.ch
Twitter: @SwissMFA
---
Publisher: