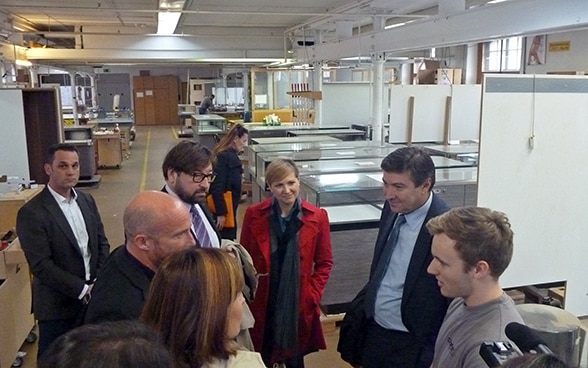 According to the latest available statistics, the youth unemployment rate in Croatia is 45.5%. One reason for this is that Croatian VET courses are not geared towards the needs of Croatian companies. Switzerland will therefore support, with the aid of Swiss technical expertise, a reform of the Croatian VET system. The most common form of vocational training in Switzerland is a combination of practical training in a company and study at a vocational school. Education and training is geared towards the actual demand for vocational qualifications and the jobs available. The dual vocational education and training system is one of Switzerland's strengths.
From 19 to 22 October 2015, a delegation of experts from the Croatian Ministry of Science, Education and Sports visited the University Children's Hospital in Basel, a car repair shop in Münsingen, the pharmaceutical company Novartis and a carpenter's workshop in Lucerne. The programme also included visits to various vocational schools and organisations involved in dual vocational education and training, such as the VET centre for business, computer science and technology in the canton of Lucerne, the Solothurn branch of the Motor Trade Association of Switzerland, the unit responsible for vocational and professional education at the Department of Education and Culture of the canton of Lucerne, and OdASanté, the national umbrella organisation for health professionals.
The Croatian delegation is very impressed with the various aspects of the Swiss VET system. They consider their visit to have been very useful and inspiring, and think that they can learn a great deal from Swiss experience in this area. The delegation was headed by Croatia's Minister of Science, Education and Sports, Vedran Mornar. His ministry will now draw up an initial project proposal based on the schools and organisations that were visited.
On 11 December 2014, the Swiss Parliament approved an enlargement contribution of CHF 45 million to Croatia. The corresponding framework agreement was signed on 30 June 2015 in Zagreb. With the signing of the agreement, Switzerland has formally approved project ideas that were proposed by Croatia and discussed by the two countries. The final allocation of the overall funds for the selected projects will be made by 31 May 2017. The projects will have to be completed by mid-December 2024.