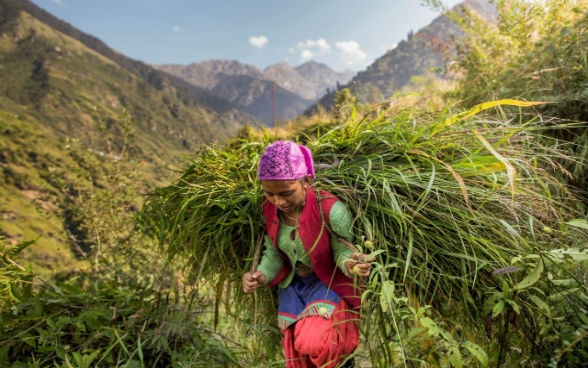 On the slopes of the Bolivian Altiplano, in Haiti and in rural India, women tend to bear the brunt of climate change and natural disasters. Because they attend to household duties, they depend on access to natural resources more than men do. When these resources become scarce, an entire way of life – and means of survival – collapses. Some women also lose the little financial independence they had gained.
These simple observations show that climate change and natural disasters must be treated as factors that exacerbate gender inequality.
In an effort to reverse this trend, the SDC gives women an important role in climate-adaptation and disaster-prevention projects. The objective is twofold: to reduce gender inequality and to leverage the flexibility, creativity and adaptability that many women have to offer. Some projects offer women the opportunity to get involved in such things as awareness-raising campaigns and training workshops. Other projects focus on enhancing women's position in society by changing certain practical aspects of daily life.
Environmentally-friendly cookers, protective measures and micro insurance
One project supported by the SDC, Energising Development, helps for instance improve the lives of many women, by providing sustainable energy sources to several million people living in developing countries. Improved cooking systems (some working on biogas) that do not give off harmful smoke are of particular benefit to the health of women and girls, who often have cooking responsibilities. These are also freed from the task of fetching firewood several times per day.
In Haiti, which ranks third in terms of countries most affected by climatic change, the SDC has taken a participatory approach, seeking to enlist as many people as possible in disaster-prevention activities. The SDC chose the NGO Fanm Deside ("Women decide") from among a number of partner organisations thanks to its status in Haitian society, particularly among women. The NGO helps people understand the concept of disaster risk and encourages rural dwellers to help build the basic infrastructure needed to reduce the risk of deadly floods (e.g. retaining walls, gabions and micro dams). Local communities provide the necessary labour in exchange for wages.
In India, several climate-adaptation projects give prominent roles to women. In the north of the country, the SDC encourages women to grow medicinal plants. These crops should help make up for the gradual disappearance of traditional forest products caused by climate change.
Also in India, the SDC is supporting the rollout of a micro insurance model that promotes the inclusion of women in agricultural economic circuits. These community insurance schemes allow rural people to insure their health, crops and/or livestock against unforeseen consequences of climate change. But they have one requirement: at least one woman must be involved in the community-based mutual aid scheme. In schemes set up, women are sponsored to play a key role in the decision-making process. They currently represent 60% of policy holders.
International advocacy
The SDC also champions gender equality in multilateral fora through several partner international organisations. For example, upon the recommendation of Switzerland and other donors, the Adaptation Fund approved all the SDC's projects through the Fund's Gender Policy and Action Plan 2017-19. The Fund has spent nearly USD 360 million on projects in over 60 countries since it was set up in 2010 pursuant to the Kyoto Protocol.