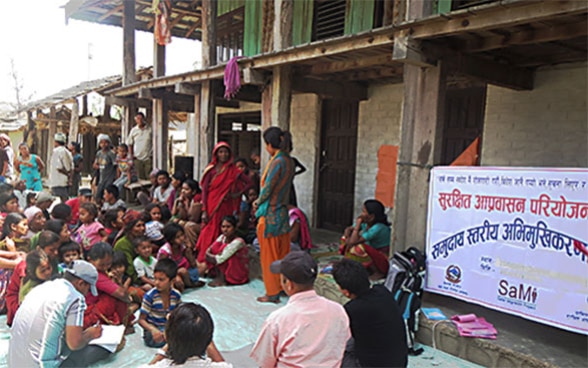 People from economically weak countries migrate to escape poverty. Migrant workers send a large proportion of their wages to their families back home. Such remittances account for the largest share of Sri Lanka's foreign currency holdings. In Bangladesh, 11% of the gross domestic product consists of remittances from abroad; the corresponding share in Nepal is 23%.
While labour markets benefit from migrants' cheap labour, low-skilled migrants – particularly women – are confronted with poor working and living conditions. There are few jobs available for them, they are often exploited, and they work under precarious legal conditions. Financial constraints and family obligations often force migrant workers to accept such working and living conditions.
Qatar under criticism
Many migrant workers are currently moving to Qatar, because the country has a large number of job vacancies for temporary workers. The first World Cup football tournament on Arab soil s scheduled to take place in Qatar in 2022. To host the event, the planned city of Lusail, which will include a stadium with a capacity for 90,000 spectators, is being built just north of the capital, Doha. Thousands of workers from India, Pakistan, Sri Lanka, and Nepal are employed in various construction sites in Lusail City. The downside of the building boom is the precarious situation of migrant workers, which is currently being reported and criticised by the international media. Migrant women In Qatar, are usually employed as domestic workers, while men work on large construction sites, in the catering trade, and as taxi drivers. These migrant workers are paid very low wages. For cost-saving reasons, safety measures are a low priority in Qatar. In recent months, inadequate safety and health measures have resulted in a growing number of deaths on construction sites.
Applying lessons from South Asia in the Middle East
Labour migration is also a priority for the SDC. It has supported migration-related projects since 2010 in Sri Lanka (Global Programme for Migration and Development, GPMD) as well as in Bangladesh and Nepal (South Cooperation Department). The SDC is carrying out this work at three levels: by advocacy to improve the legal status of migrants; by efforts to strengthen civil society in the countries of origin to enable it to express migrants' concerns at the national, regional, and global levels; and integrating the theme of migration into local programmes. In Nepal, the SDC is currently running training courses to empower civil society.
The SDC also aims to improve cooperation between countries from which migrant workers originate and is already involved in ministerial-level exchanges within the framework of the "Colombo Process " and the "Abu Dhabi Dialogue".
Support at various levels
The main goals of the projects supported by the SDC on one hand, empower migrants to protect themselves and, on the other, provide support to governments to organise migration more transparently and efficiently. The following initiatives to assist migrants are particularly significant:
Information about correct migration procedures as well as living and working conditions in the destination country;
Education and training to enable migrants to apply for safer and better paid jobs in their country of destination;
Access to legal aid when their rights have been have been infringed by job placement agencies or employers;
Psychosocial support that includes families in the country of origin;
Greater accountability and responsibility on the part of job placement agencies;
Helping returning migrant workers to reintegrate in their home countries;
Supporting governments in developing more efficient and effective mechanisms to manage migration flows; and
Political dialogue with sending and receiving states in order to improve working conditions.
First steps in the Middle East
Switzerland has established initial contacts in the Middle East in the area of labour migration. Cooperation proposals have already been made to Jordan, Yemen, and Lebanon. In connection with the UN Global Forum on Migration and Development, the labour minister of United Arab Emirates has invited Switzerland to co-organise a workshop on abusive recruitment processes by job placement agencies. In addition, the SDC is in close contact with the UN's International Labour Organisation (ILO) and is carrying out initial government-agency-level programmes to improve working conditions of migrant workers in the Middle East.
The SDC is involved in labour migration projects in Asia and the Middle East for a variety of reasons:
Migration is an important poverty-reduction strategy in South Asia.
Migratory movements from Bangladesh, Nepal, and Sri Lanka to neighbouring countries such as India as well as to the Gulf states have increased and are economically significant. Because job seekers face very poor working conditions, the SDC has integrated the issue of migration into its country strategies.
In the Middle East, Switzerland has a reputation for being a serious mediator that is not pursuing its own interests. For this reason, it can take a strong position in the international debate on legal bases and regulations for migrants.
Switzerland's interest in working to improve the working and living conditions of migrant workers has future potential, as many migrants in Switzerland come from the Middle East. Better regulations in these countries and better relations facilitate cooperation.
About 3% of the world's population – more than 200 million people – are international migrants. In 2010, about 90% of migrants reported that they had left their home country to look for work. About 9 million migrants in the Middle East come from South Asia and Southeast Asia.