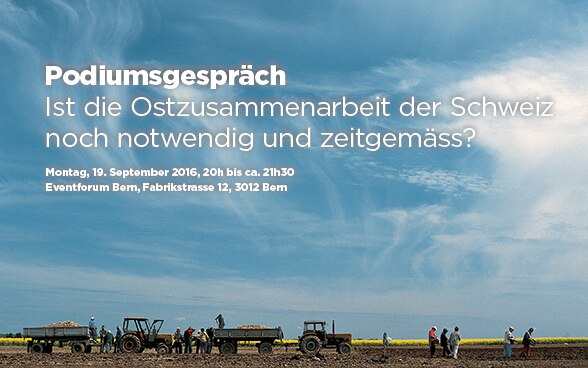 The National Council and the Council of States are currently deciding on the future direction of Swiss cooperation with Eastern Europe. This is the process by which Switzerland supports former Communist countries in Eastern Europe and the former Soviet Union in their transition to democracy and a social market economy.
But is this cooperation still necessary and relevant? Is Switzerland setting the right thematic and geographical priorities in view of global challenges such as refugee crises, humanitarian disasters, poverty-driven migration and increasing threats to international security? Does such cooperation make a tangible contribution to the countries' development and to eliminating the causes of conflict and migration?
Panellists:
Werner Luginbühl, Member of the Council of States, Swiss Conservative Democratic Party (BDP), Bern
Hans Stöckli, Member of the Council of States, Swiss Social Democratic Party (SP), Bern
Reto Nause, Member of the Communal Council, Swiss Christian Democratic People's Party (CVP), Bern
Ambassador Elisabeth von Capeller, Assistant Director General and Head of the Department for Cooperation with Eastern Europe at the Swiss Agency for Development and Cooperation (SDC)
Ambassador Raymund Furrer, Head of the Economic Cooperation and Development Division at the State Secretariat for Economic Affairs (SECO)
The discussion, in German, will be moderated by Karin Frei from Swiss TV and radio broadcaster Schweizer Radio und Fernsehen (SRF).
To book your place or for more information, email  deza@eda.admin.ch Availability is limited so you are encouraged to book early. Please note that we will not send confirmation of your participation.