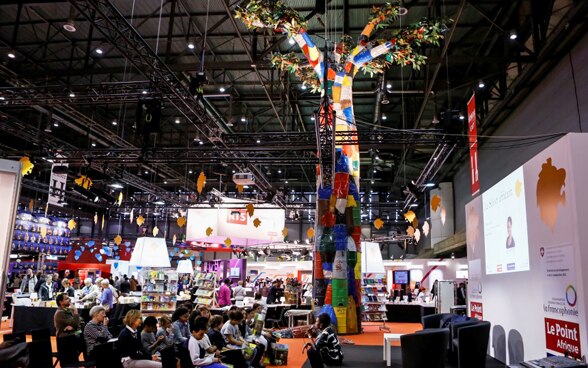 "Africa – heritage of humanity" is the theme of the African Book Fair at this year's Geneva Book and Press Fair, which will take place from 27 April to 1 May 2016. Literary, historical and artistic heritage will be discussed by thinkers, art experts, poets and major figures of African literature. Also on the agenda will be the constantly shifting heritage as told by photographers, bloggers, slam poets and more. The African Book Fair is supported by the SDC.
For the thirteenth consecutive year, African authors will come to Geneva to meet their Swiss readership. Among them will be Aimée Mambou, the doyenne of Congolese literature, the young Senegalese author and publisher Felwine Sarr; the Mauritanian author Beyrouk; and new talent including Mahmoud Soumaré, a published author from Côte d'Ivoire, and the young film-maker and journalist Fatou Kandé, who will talk about hip-hop. Algerian author Boualem Sansal will also be there, whose latest novel – 2084 – is a huge hit. 
As in previous years, the programme of the African Book Fair will make a link with "black America", highlighting the role of Césaire and Damas in the Negritude literary movement. Special tribute will be paid to Frantz Fanon, and also to Haiti, specifically its young talent and their eldest star writer: Dany Laferrière.  Artistic heritage will also be on the agenda, including contemporary art, with André Magnin, the curator of the exhibition "Beauté Congo" that had all of Paris flocking to the Fondation Cartier. 
The Kourouma Prize will be awarded to an African author of outstanding clarity of vision and insight.