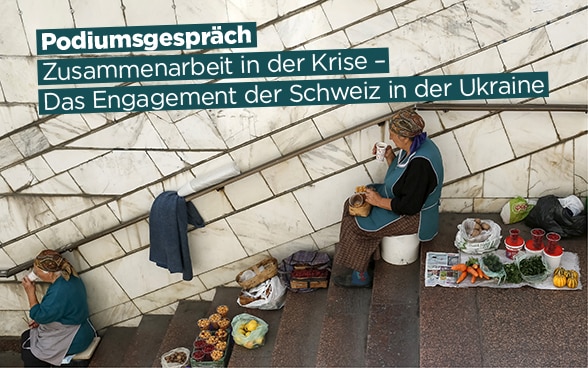 The SDC is organising a panel discussion on how Switzerland can help to improve the desperate situation of the Ukrainian population. 
Ukraine has been in deep crisis since the Crimea conflict with Russia broke out in 2014. The result has been thousands of deaths, one and a half million displaced persons, massive destruction of the infrastructure in the industrialised east of the country, a critical humanitarian situation, and an economic depression with severe social consequences. 
In these desperate circumstances, how can Switzerland help to improve conditions for the Ukrainian population? That is the key issue that politicians and representatives of federal agencies will address at this panel discussion. 
The panellists are:
Sibel Arslan, National Councillor, Green BastA!

Elisabeth Schneider-Schneiter, National Councillor, Christian Democrat People's Party CVP

Gretta Fenner, Director of the Basel Institute on Governance

Prof. Frithjof Benjamin Schenk, University of Basel

Ambassador Elisabeth von Capeller, Assistant Director, Head of Cooperation with Eastern Europe, SDC

Ivo Germann, Head of Operations, Economic Cooperation and Development, SECO

Holger Tausch, Head of the Swiss Cooperation Office in Kyiv
The discussion will be moderated by journalist Luzia Tschirky. It will be held in German.
To book your place or to request more information email deza@eda.admin.ch. Availability is limited so  better book early. Please note that we will not send confirmation of your participation.