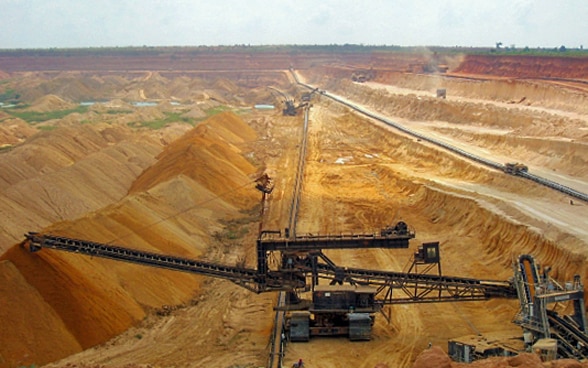 Exploiting natural resources is crucial to the economies of many developing countries and Swiss companies play a key role in commodities trading. Natural resources can be used to alleviate traditional forms of poverty, but many countries fail to take this step. The SDC aims to address this problem.
The commodities sector is becoming increasingly important in developing countries. According to a 2016 report by the United Nations Conference on Trade and Development (UNCTAD), 91 developing countries in 2015 were dependent on commodities, where commodity exports accounted for more than 60% of a country's total merchandise exports. The World Bank also estimates that Africa alone is home to about 30% of the world's mineral reserves. Certain minerals, such as cobalt and tantalum, which are used extensively in electronic products, mainly come from fragile countries.
With the expansion of 'clean' industries and technologies, the demand for minerals is set to increase, generating significant investment in exploration and developing new mines.
The various backgrounds and roles of the stakeholders involved have been debated for years by the academic community, international development policy committees, governments and civil society. The macroeconomic effects of exploiting natural resources and the factors causing price volatility have also been assessed. Attention has also been focused on extraction practices that cause damage to health and the environment, exploitative working conditions and conflicts over access to natural resources, which have the potential to unleash violence or even armed conflict.
Issues relating to financial flows from commodities trading are also the subject of intense debate. In general, funds that have been acquired illegally, or in questionable circumstances, and are transferred abroad present a major obstacle to economic growth and good governance in developing countries. There is broad consensus that illicit outflows from developing countries exceed the value of official development assistance many times over. A high percentage of these financial flows are attributable to commodities production and trading.
Switzerland is a key player in the commodities trading sector. It is estimated that more than 3 billion tonnes of commodities, calculated at over CHF 960 billion, are traded in Switzerland each year. In a report entitled 'The Swiss commodities sector: current situation and outlook' published in November 2018, the Federal Council states that it expects all companies operating in or out of Switzerland to demonstrate integrity and responsible conduct with regard to respect for human rights as well as environmental and social standards, both within Switzerland and abroad. The Federal Council also states that this applies to the entire value chain and is especially important for companies that operate in fragile states.
The SDC's main areas of activity
The SDC is committed to raising international standards for commodities production and trading and ensuring that governments and companies properly implement such standards.
Switzerland supports the implementation of multilateral instruments in the fight to control corruption and illicit financial flows.
In terms of international development cooperation, the SDC is committed to assisting its commodity producing partner countries in managing natural resources and creating sustainable value chains.
By supporting research and multi-stakeholder platforms, Switzerland is contributing to a better understanding of both the challenges and opportunities facing developing countries in relation to mining.