Fighting corruption – a major barrier to development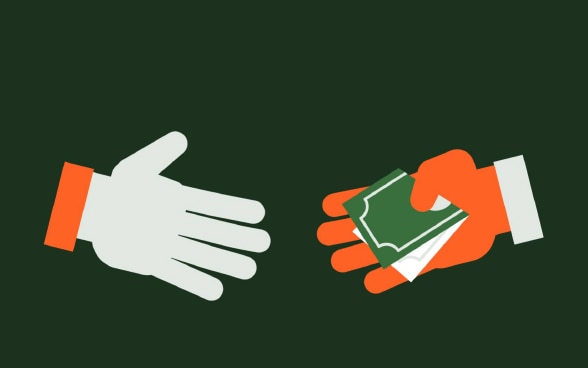 Corruption hinders development, causing the disappearance of crucial financial resources, the erosion of public trust and a general sense of powerlessness and injustice that can escalate to full-blown conflict. Corruption hits poor and vulnerable groups the hardest as they cannot afford bribes to obtain public services. The SDC is therefore determined to combat corruption.
Fighting corruption is one of Switzerland's key priorities and vital to establishing good governance. Responsible and transparent action on the part of governments and the imposition of sanctions for corrupt acts are major weapons in fighting corruption.
Key objectives are ensuring that public funds are used effectively and efficiently for development within a particular country and building public trust in the government. The SDC also aims to stop corrupt practices that subvert government institutions and political processes and to create a more level playing field, which helps reduce tensions.
Focus of action
The SDC works to combat petty corruption that affects people's everyday lives, such as paying bribes for medical care. It also fights large-scale corruption involving powerful politicians and business leaders, with substantial sums changing hands. The SDC uses a two-pronged approach to tackle these issues: firstly, supporting specific anti-corruption programmes and secondly, incorporating anti-corruption measures into other areas of work. The SDC works to address all aspects of corruption, ranging from bribery, fraud and embezzlement to nepotism, unfair price-fixing and extortion.
The SDC is involved, for example, in initiatives to curb illicit financial flows and repatriate stolen assets. It strives to ensure that such funds are invested in development projects that benefit communities. The SDC is also committed to implementing international agreements, utilising global donor platforms, and working in partnership with anti-corruption centres of excellence.
Switzerland calls for greater transparency in budget management and the introduction of integrity standards for government agencies and private sector entities. Further measures include promoting citizens' initiatives and investigative journalism aimed at exposing and fighting corruption. The deployment of new information technologies is essential to implementing these measures. Efforts to bolster anti-corruption expertise at national level are also targeted at independent supervisory bodies, such as anti-corruption authorities, auditors and parliamentary finance committees.
The SDC is working to achieve a consistent anti-corruption policy in consultation with other federal offices, civil society organisations and the private sector. The SDC is also building on its own expertise by raising awareness among SDC staff and SDC partners and providing appropriate training. It also keeps a close eye on internal coordination and cultivates effective external networks.
The SDC lays down clear rules of conduct, has appropriate internal control mechanisms in place, and conducts internal and external audits at regular intervals. It regularly assesses corruption risks, undertakes risk assessments in relation to partners, defines appropriate countermeasures, and imposes sanctions where required. In carrying out this work, Switzerland adopts the recommendations of the Organisation for Economic Co-operation and Development (OECD) for managing corruption risks.
Zero tolerance policy
If the SDC were to be affected by corruption, payments would normally be suspended pending the results of a legal investigation. In addition, the SDC strives to recover misappropriated funds in all circumstances.
Links
Documents
Current projects
Selection
10.04.2014 - 30.06.2021


The project will increase human and institutional capacities of all municipalities in Georgia (except the capital city Tbilisi). lt will enable them to perform independently the core three functions for decentralised delivery of basic infrastructure services, i. e. Project Cycle Management, Financial Management and Asset Management. Such a decentralized System will enable the Government to better respond to population needs at local level.
---
01.09.2012 - 30.06.2020


The Third Sustainable Livelihoods Project (SLP3) aims to foster improved rural local governance and effective service provision by building capacity and institutionalizing community participation in the planning and delivery of priority investments. It will do so by supporting the implementation of the new Integrated Budget Law (IBL), which is the centrepiece of the government's decentralization reform process. SLP3 will provide essential training, development and performance grants to all 330 soums and benefit 40% of Mongolia's population.