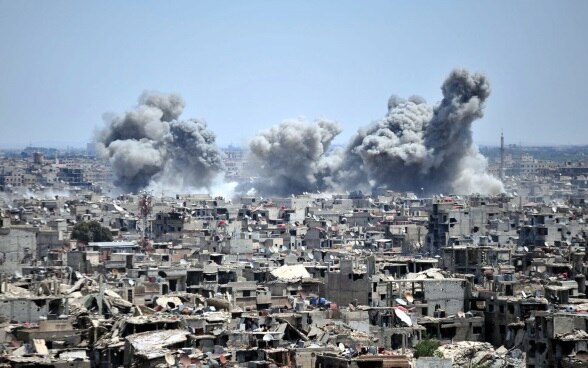 With the armed conflict in Syria now in its eighth year, the situation remains precarious. Violations of human rights and international humanitarian law are systematic. Recent months have seen an escalation of hostilities on several fronts. Hundreds of thousands of civilians are displaced in the north-western part of the country. Over 13 million people in Syria are reliant on humanitarian aid, and more than 6 million of these are internally displaced. A further 5.6 million Syrians have fled the country as refugees, mainly to the surrounding region. 
With the conflict ongoing, and given the scale of humanitarian needs in Syria and the region, the EU and UN organised a two-day donor conference in Brussels on 'Supporting the future of Syria and the region'. Switzerland announced at the conference an increase in its commitment: in 2018 it will allocate CHF 61 million to support the population in need, taking its total contribution since 2011 to CHF 376 million. This engagement is not limited to humanitarian aid in Syria: Switzerland also provides protection and support for refugees and host communities in Lebanon, Jordan and Turkey.
Furthermore, Switzerland will continue to play a role in promoting peace, particularly through efforts to reach a political solution. To this end it is allocating CHF 7 million in 2018. Switzerland is also committed to protecting and promoting human rights and international humanitarian law and to combating impunity.
The head of the Swiss delegation, Krystyna Marty, took the opportunity at the conference to call for a peaceful settlement to the conflict within the framework of the UN peace talks and for the avoidance of any further escalation. She called on all parties to the conflict to comply with international humanitarian law so as to guarantee the protection of the civilian population as well as unhindered and sustained humanitarian access.
---
Statement of Deputy State Secretary Krystyna Marty(pdf, 223kb)

---
Address for enquiries:
Information FDFA
Bundeshaus West
CH-3003 Bern
Tel.: +41 58 462 31 53
Fax: +41 58 464 90 47
E-Mail: info@eda.admin.ch
---
Publisher: