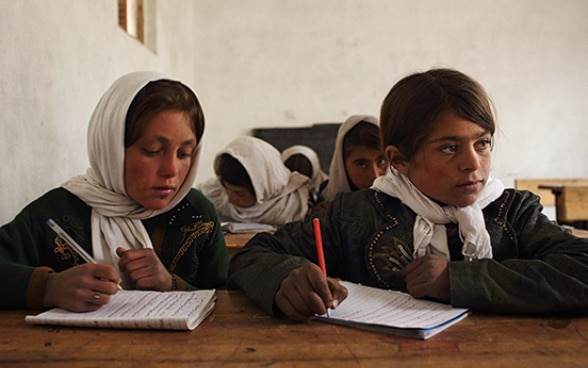 Mr Sager explained at the agency's annual media conference that Switzerland has significantly increased its support for fragile countries and regions such as sub-Saharan Africa, North Africa and the Middle East in recent years. "This year, we want to strengthen our core mission of fighting poverty wherever state structures are weakened or absent due to conflict. The causes of poverty are often the same factors that lead to radicalisation, extremism and violence, forcing millions of people from their homes: a lack of prospects for young people, social inequality, marginalisation and discrimination of minorities and groups, and human rights violations," he stressed.
What is needed to help fragile countries?
Jean-François Cuénod, Deputy Manager of South Cooperation Department, explained how the SDC works in fragile contexts. Programme work in regions affected by conflict, he said, must be especially forward-looking in its approach to risk. Besides a precise analysis of the context and support for development policy reforms, this entails being prepared to make a long-term commitment on the ground as a dependable partner and taking account of all security aspects. While the SDC cannot resolve any conflicts itself, it contributes to positive change by addressing the root causes of conflicts and poverty. This brings fresh hope for peacebuilding and reducing poverty.
Examples of projects in Afghanistan, Tunisia and Ukraine
Barbara Affolter of the SDC's Conflict and Human Rights team presented specific examples to illustrate how the SDC supports governments and administrations in fragile states so that they can fulfil their duties and obligations towards the population more effectively, even under difficult conditions. In the disadvantaged Tunisian region of Kasserine, for instance, the SDC is supporting a project aimed at improving people's access to drinking water, since a lack of water is often a cause of conflict. The SDC is taking care to ensure that help reaches the poor and marginalised and to include women, whose working day is made significantly easier by connecting households to the drinking-water supply. In Ukraine, the SDC is supporting the reconstruction of regional administrations in the conflict-affected regions on the eastern side of the country. It is helping the authorities to find viable solutions to social and economic problems and create long-term development prospects. In Afghanistan, a school project in the remote and mountainous regions of the country shows the role access to basic education plays in promoting peace and fighting poverty.
Dispatch on International Cooperation 2017-2020
Another priority for the SDC in 2016, according to Mr Sager, is the new Dispatch on International Cooperation 2017-2020, which will be put to a parliamentary vote during the course of this year after it was adopted by the Federal Council. For the first time, the FDFA's Human Security Division is involved in addition to the SDC and the State Secretariat for Economic Affairs (SECO). Besides increased activity in fragile contexts, the key themes of the dispatch include a focus on economic, social and political sustainability, creating more jobs and expanding vocational education in partner countries. More attention is also to be paid to cooperation with the private sector, promoting human rights and gender equality.
"With the Dispatch on International Cooperation, Switzerland is following up on the promise it made in signing the 2030 Agenda for Sustainable Development," explained Mr Sager. The 2030 Agenda, adopted in September 2015 by the 193 United Nations member states, is a global framework comprising 17 Sustainable Development Goals that will be instrumental in defining Switzerland's international cooperation over the coming years. "These fine words must now be turned into action," he emphasised.
---
Further information:
Fragility and violence impede poverty reduction
2030 Agenda for Sustainable Development
Youtube International Cooperation

---
Address for enquiries:
Information FDFA
Bundeshaus West
CH-3003 Bern
Tel.: +41 58 462 31 53
Fax: +41 58 464 90 47
E-Mail: info@eda.admin.ch
---
Publisher: