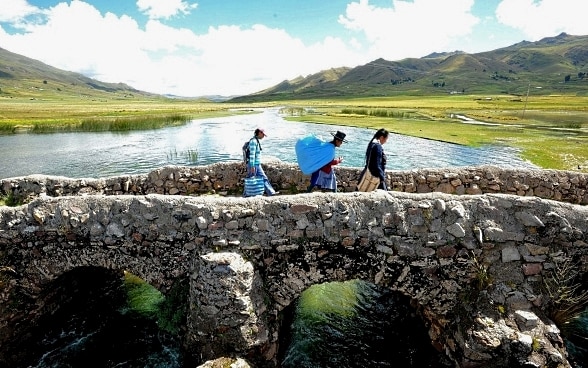 "Day Zero" is the day when the taps in Cape Town are predicted to run dry for the city's 4 million inhabitants. And it is approaching fast. Similar prospects are looming in other parts of the world too. Today's estimates alone put 2.1 billion people without access to clean drinking water and 4.5 billion without access to properly functioning sanitation facilities. There needs to be action. In keeping with the 'Sharing Water' motto of this year's World Water Forum in Brasilia, Switzerland will share its many years of experience and the concrete results that have been achieved through its development cooperation.
Putting it into practice
Despite a diverse range of feasible solutions, running water and adequate sanitation facilities can no longer be taken for granted in many regions. Just ask Reynaldo Quispitupa from Siusa, a rural community in the south-east of Peru. He remembers how they didn't have any toilets and had to put up with poor quality drinking water.
Now, thanks to a comprehensive basic sanitation programme (SABA, which stands for saneamiento basico) initiated by the SDC in Peru 20 years ago, the entire population of Siusa has access to sanitation facilities. The SABA programme focuses on developing water infrastructure, which includes building toilets, and involves everyone concerned. In addition, the municipal authorities receive training and the local communities take part in identifying which services need to be guaranteed in order to maintain the infrastructure. Trained local staff monitor water quality, add the required amounts of chlorine into the reservoirs and maintain the ­pipes.
With projects like SABA, which include political dialogue and knowledge exchange with Peru's neighbours, the SDC's Global Programme Water is working to increase the pace at which the right to clean drinking water and adequate basic sanitation is put into practice. Recognised as a human right in 2010, it is both essential to satisfy basic human needs and to fulfil the 2030 Agenda for Sustainable Development. The SABA programme has since been extended throughout Peru. The project's approach has also been adopted in neighbouring Colombia.
Switzerland will present this SDC programme at the World Water Forum, where the factors for its success and the challenges that it has faced will be discussed, as well as how the same integrated approach can be applied in other countries to create access to water and sanitation in rural areas.