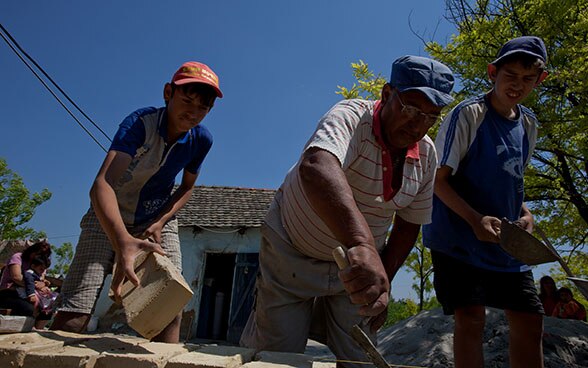 Around half a million Roma live in Serbia. Marginalised and close to the poverty line they often live in cramped conditions, with poor roads and inadequate electricity and water supplies.
In an effort to provide these Roma with decent living conditions the SDC since 2008 has supported a project enabling them to take part in the renovation of their homes. In particular they are invited to participate in decision making and to determine their own needs. The SDC initiative also facilitates access to education for Roma children, to vocational training for adults and provides assistance in defending their rights.
Crowned with success from the start (click on link to access description), the project has now been selected as one of 10 finalists for the World Habitat Award 2014-2015, from a list of 200 candidates.   
Details of the selected project
Two projects chosen each year
Each year the World Habitat Award grants around CHF 15,000 each to two projects that provide practical and innovative solutions to housing problems around the world. The projects must be aimed at homeless or marginalised persons, for the empowerment of poor communities. The Award was established in 1985 by the Building and Social Housing Foundation in support of the United Nations International Year of Shelter for the Homeless.
A leading bilateral donor
Switzerland is one of the leading bilateral donors in Serbia, having allocated some CHF 300 million to development cooperation since 1991. The cooperation programme has already produced significant, tangible results. In partnership with the Serbian government, the public and private sectors and local NGOs, Switzerland supports Serbia's transition towards democracy. There are three priority areas: marginalised populations, gender equality and good governance.