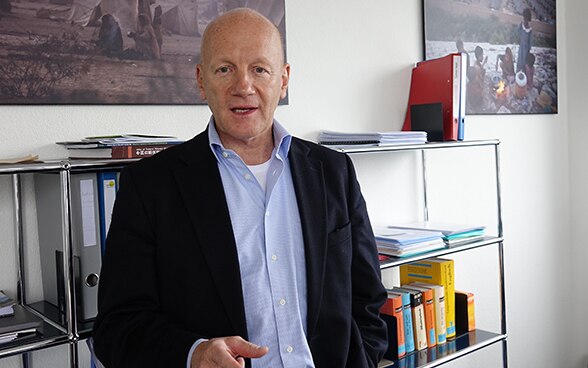 The crises in Syria and Iraq, the Ebola epidemic, violent conflicts in Sub-Saharan Africa… there is no lack of challenges for Swiss Humanitarian Aid. Despite this, you have chosen the theme of disaster risk reduction for this year's Annual Conference of Swiss Humanitarian Aid. Why?
Try to imagine, in addition to the crises you mention, a natural disaster such as a major earthquake were to occur. That would be a serious challenge for the whole humanitarian community, whose resources are already severely stretched. Every year, numerous disasters are averted thanks to measures that have been taken in good time. This work is less known to the general public even though it saves many lives, reduces the number of people affected, and limits the damage caused. We want to give this work more visibility at our annual conference.
What means do we have at our disposal to reduce the risks of disasters?
There is a very wide range indeed. The most important thing is to carry out an in-depth analysis of the risks involved in order to determine the best measures to take. This is known as "integrated risk management". Specifically, this consists of preventive action such as planting trees or limiting overgrazing to avoid soil erosion and mudslides. It also includes preparatory measures such as setting up early warning systems against tsunamis, floods and hurricanes, which make it possible to evacuate people in time. When implementing these measures we always work with the governments and communities concerned.
All this takes a lot of time. Can you really call it humanitarian aid then? Is it not in fact development aid?
Humanitarian aid cannot be limited to emergency aid only. Humanitarian aid aims to help save human life whenever it is threatened, through preventive and rescue measures.  These are the terms used in the Federal Act of 19 March 1976 on International Development Co-operation and Humanitarian Aid. In addition to emergency aid our mandate also requires measures to deal with the factors that lead to crises. It is therefore more a question of preventing rather than curing the problem.
That said, it is correct to see disaster-risk reduction as something that goes further than humanitarian aid. In a matter of minutes, a hurricane or a tsunami can reduce to nothing all the achievements of development that a country has built up over decades. In view of this, the SDC makes disaster-risk reduction a priority theme of its overall commitment. This task is carried out by the humanitarian aid and development cooperation departments working together in tandem.
Given its topography, Switzerland has acquired a solid basis of experience in risk management. How does the SDC make use of this know-how in its work abroad?
The SDC has the opportunity to be able to develop projects based on the input of its many partner institutions. It coordinates a cooperation platform with the Swiss federal offices that work in this field, in particular the Federal Office for the Environment and the Federal Office for Civil Protection. The platform also includes Swiss NGOs.
The Swiss Humanitarian Aid (SHA) Unit also plays a very important part in this transfer of knowledge. The SHA has a group specialised in environment and disaster risk reduction and several of its members are regularly deployed abroad.
To complete the picture, the SDC cultivates partnerships with academic institutions and representatives of the private sector, starting with insurance companies.