Together towards a sustainable future - The 2030 Agenda for Switzerland and the world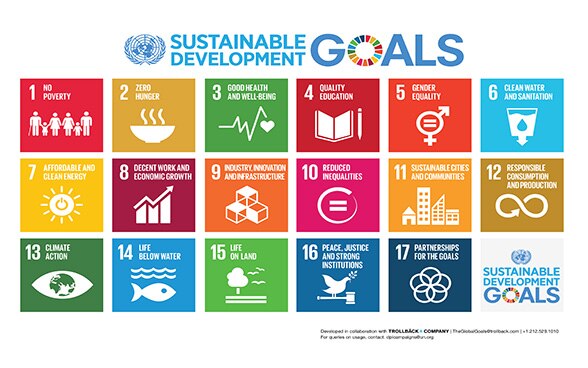 In September 2015, the largest ever gathering of heads of state and government took place in New York to adopt the 2030 Agenda and its 17 Sustainable Development Goals.
The 2030 Agenda replaces the Millennium Development Goals and lists 17 Sustainable Development Goals which form a common guide to the fight against poverty, inequality and environmental degradation. The goals apply to all countries, including Switzerland. In addition to being universal, the new Agenda incorporates social, economic and environmental concerns. It thus stresses that a life of dignity for all is only possible when all countries act together and when social and economic growth does not come at the expense of the environment.
Switzerland drives the new goals forward
Convinced that shared goals can make a difference, Switzerland worked hard to drive the new goals forward in the three-year negotiating process. The two main speakers, UN Secretary-General Ban Ki-moon and Federal Councillor Didier Burkhalter, emphasise the importance of the Agenda – for the world and for Switzerland.
In the first discussion, Assistant UN Secretary-General for Policy Coordination and Inter-Agency Affairs, Thomas Gass, and Switzer- land's Special Envoy for Global Sustainable Development Michael Gerber, will share their experience of drafting the new goals, and what these goals mean for individual countries.
Switzerland was particularly involved in developing the goal on water, an area in which it was able to contribute knowledge and a great many years of experience. In Chad in central Africa, Switzerland is implementing a project to restore river weirs, which will lead to a more sustainable use of resources. The project already combines economy, ecology and social responsibility, the three dimensions of sustainable development. And since every goal also applies to Switzerland, the discussion will show how Switzerland itself intends to implement the water goal.
The financing of the Sustainable Development Goals
Indonesia grows cocoa on a large scale. It is now the third biggest producer worldwide. A large public-private partnership will illustrate the financing of the Sustainable Development Goals, which will need both public and private sector investment. The project is helping around 60,000 farmers conserve natural resources – and achieve higher yields and better quality cocoa harvests – by encouraging private direct investment, innovative financing solutions and a better regulatory environment.