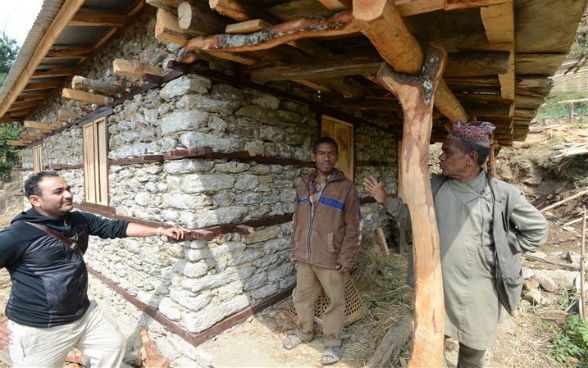 In the months that followed the earthquake that hit Nepal on 25 April 2015 killing almost 9,000 people and affecting some 5.4 million others, the press was awash with reports of persistent problems on the ground: emergency aid blocked at the airport, chaotic humanitarian aid efforts, villages completely cut off, the list was endless. The context in which the Swiss embassy and the SDC were working in Nepal was complex to say the least, as indeed it was for all humanitarian organisations.

Yet Switzerland can claim much success in the part it has played in the reconstruction of the country, capitalising on its long experience in development cooperation and its diplomatic network in Nepal, and on the dozens of experts from the Swiss Humanitarian Aid Unit who were mobilised for nearly two months.
A multi-pronged approach
After the emergency phase, Switzerland financed the rehabilitation of suspension bridges, trained builders in sustainable construction techniques, funded the distribution of seed in 45 villages, supported the activities of a structure for psychological care for traumatised earthquake victims, and initiated the rehabilitation of temples at Dolakha, a historical site located about a hundred kilometres east of the capital Kathmandu. Lastly, it is a Swiss citizen seconded by the SDC who now coordinates the 'Housing Recovery and Reconstruction Platform', the body responsible for overseeing all house reconstruction initiatives across the country.
One year on, much remains to be done. But as can be seen by the words of a builder trained by a partner organisation of the SDC, there is a clear sense of solidarity among the people: "Now I can help others to rebuild their homes..."