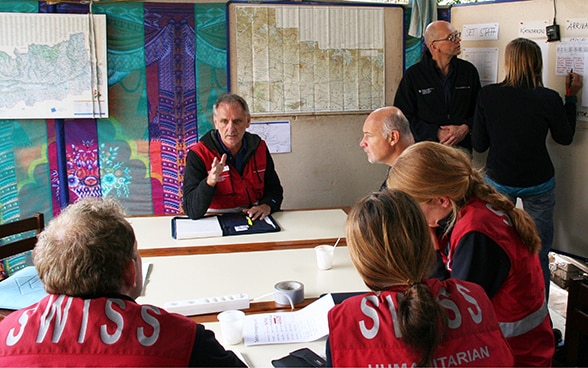 Ueli Salzmann, what have the SHA specialists achieved in concrete terms so far?
Among several assessment missions, we established first contact in the district of Gorkha to deploy a "Mother and Child" team, which would be able to assist the regional hospital. This hospital, which has a catchment area of 250,000 people, became operational again thanks to our medical team. Patients are now being treated and operated on, and mothers can give birth in the hospital again. We also distributed relief supplies during this initial period. Last, coordination was another extremely important aspect, which is why we are taking part in numerous discussions, visiting ministries, and so forth.
The Swiss humanitarian team is working in the Gorkha area west of Kathmandu, and in the regions south of the capital. What criteria were used to select the deployment areas?
We observed that there was no need for medical assistance in Kathmandu itself, unlike Gorkha which was very near the epicentre. The fact is that Gorkha District Hospital covers a vast region. We were the first aid organisation on the ground and wasted no time in deciding to start relief operations there. We then decided to focus on the region south of Kathmandu as well, because other organisations were concentrating their efforts in the region north of the capital. We assessed needs before delivering relief supplies there.
The rapid response team set up its headquarters in the Swiss embassy compound. But the embassy building was seriously damaged by the earthquake. Is it even possible to work there?
Yes, we can work relatively well. Fortunately, the weather is good now. In the first few days after the earthquake it was rainy and quite cold. Sure, it's an improvised set-up, but the embassy premises we've been given and the tents in the courtyard are all we need.
The SHA specialists deployed to Nepal are replaced on a regular basis. What effect does that have on the continuity of the projects you are carrying out?
We are continuously evaluating and discussing the projects implemented. We're planning to stick to this set-up for the next few weeks. We will expand the range of relief supplies and adapt it to the ongoing needs. Much of our supplies can be obtained in Kathmandu. We shall keep this in mind, and then continue to deliver aid in the peripheral regions of the country.