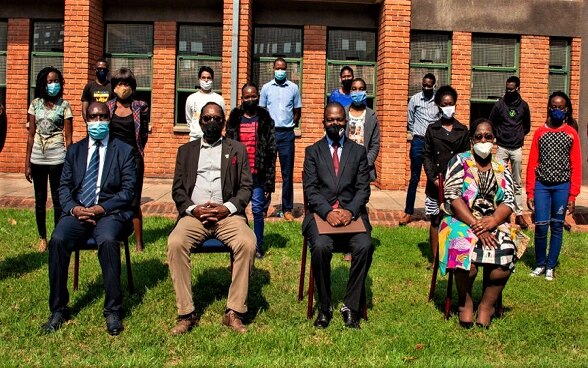 The youth occupy leadership positions in fields ranging from human rights, law, small scale business entrepreneurship, youth activism and women's rights.
The workshop forms the third in a series of four workshops that seeks to train community based leaders who represent all sections of the society in negotiation skills, dialogue and peace mobilization. The next group that will be trained in the workshop series will include women leaders who lead various critical civic society groups in Zimbabwe.
The trainings hosted by the Africa University Institute of Peace, Leadership and Governance forms part of a tradition of community education and emancipation that is at the centre of the values of the institute.  
Speaking at the workshop, on behalf of the Vice Chancellor Professor Munashe Furusa, Africa University Registrar Mr. Herbert Njonga expressed the immense pride of place and gravity that the university places upon youth empowerment and their critical role in the realization of the continental blueprint for sustainable development – Agenda 2063, and the Sustainable Development Goals. He also emphasized the need to deliberately and increase efforts to build lasting peace and get young people involved in the process.
Mr Njonga also thanked the strategic partners of the initiative speaking to the impact that such trainings have on the advancement of the development trajectory of the region and continent.
"The Africa University Partnership Grant with the Swiss Embassy and the Centre for Security Studies, ETH Zurich aims to strengthen the capacity of men, women and youth in Negotiation and Mediation skills. The partnership project Grant which is worth USD177,381.00 was signed in 2016 and we are happy to inform you that one of the major outputs of capacity building training sessions such as these is that Africa University with a team of experts from the Centre for Security Studies in Zurich and participants of the initial training workshops  have developed a Master's degree programme in negotiation and mediation which is in the final stages of being approved by the Zimbabwe Council of Higher Education.
"This is a unique programme and is the first of its kind in Zimbabwe and Africa. We seek to launch the programme in March or August 2021. It is our hope that we will continue to partner in ensuring that we train a critical mass of young male and female negotiators and mediators across Africa," he said.
Africa University's efforts to drive the inclusion of young people in all aspects of continental development  places young people at the forefront of development and identifies young people as active participants in the building of lasting peace and progress. During such workshops, pre-conceived notions of youth as pawns in political discourse is dispelled.