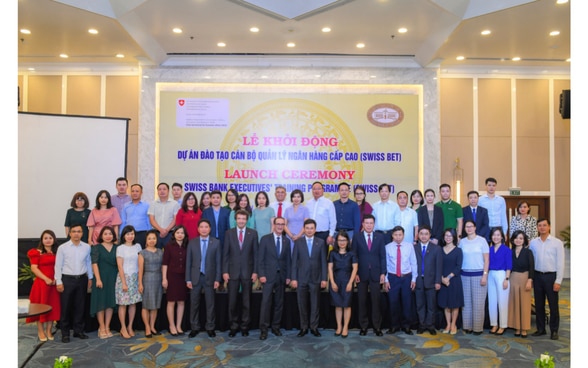 The training of the Swiss BET program covers key topics related to bank management, banking strategy and operational concepts as well as regulatory matters, relevant for bankers in an emerging market setting. The curriculum is organized around 13 thematic modules grouped around management and strategy, finance and regulation, and banking services. The first module will start on 26 September. The other modules will follow at approximately monthly intervals over the next 18 months.
Over 80 senior bank executives from 19 Vietnamese banks were selected for this cycle of the Swiss BET program. The high number of applications shows the interest of bank executives and Vietnamese banks in the program and testifies to the relevance and importance of the training offered.
The training is delivered by the Swiss Finance Institute (SFI), which is a center of excellence in research, training and knowledge exchange in banking and finance. There will be two parallel cohorts, which are simultaneously run, one in the North and the other one in the South of Vietnam. In addition to training for Vietnamese bankers, the program also includes specific workshops for executives of the SBV and relevant ministries.
Mr. Pham Thanh Ha, Deputy Governor of SBV, stated in his keynote speech: "The Swiss BET program provides vital training to our Vietnamese bank managers to improve management practices and thereby strengthen the quality and performance of their respective institutions and the banking sector as a whole."
"With this support, Switzerland aims to pass on global best practices and share the experience and knowledge from the Swiss banking sector with Vietnamese banks. Sound banking training for top management strengthens banks and helps improve banking services for emerging businesses in the country." mentioned Mr. Werner Gruber, Head of Cooperation of the Swiss Cooperation Office, in his opening speech.
"The SFI is internationally recognized as a Swiss center of excellence for research, training and knowledge exchange in banking and finance, and we look forward to working with the SBV and SECO on the delivery of this important training program to Vietnamese bank executives.", said Professor Alfred Mettler, Program Director of the Swiss BET Program.
This is the third phase of the Swiss BET program in Vietnam, which started in 2010. Many of the graduates of earlier program cycles have made a successful career up to the top management of major banks. The graduates have now organized themselves into an Alumni Association, which will serve as a platform to continue training and share experience.
The Swiss BET program is a joint program of SBV and SECO, financed by the Swiss economic cooperation program for Vietnam, which is implemented by SECO. In the three consecutive cycles planned for this phase, it will train more than 240 Vietnamese bank managers and hundreds of central bankers in the latest and most modern bank management practices over the next five years.
Additional information about the Swiss BET program
For further information, please contact:
Ms. Nguyen Thanh Thuy, Head of Division, International Relations Department, SBV
Email: thuy.nguyenthanh2@sbv.gov.vn
Phone: +84 24 39343365
Ms. Tran Ngoc Ha, Senior National Program Assistant, SECO
Email: ngoc-ha.tran@eda.admin.ch
Phone: +84 24 3934 65 89 (ext. 850660)
Mr. Alfred Mettler, Project Director, SFI,
Email: Alfred.Mettler@sfi.ch