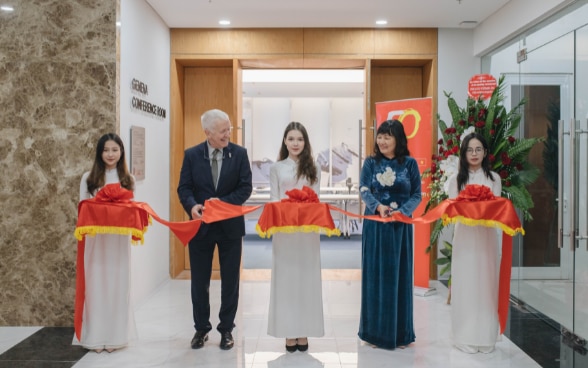 The Swiss-designed Geneva Conference Room reflects the city's natural surroundings with the lake of Geneva and its mountain scenery. The room carries special symbolism and offers a new and inspiring connection between Geneva and Hanoi: As European headquarters of the United Nations, Geneva is the operational heart of the multilateral system. The city earned itself the title of capital of peace, acting as place of dialogue, including for facilitated peace conferences and processes. Geneva's open mind and spirit, allowing for inclusive and tolerant debates among people of different views and opinions, aims at nurturing constructive discussions.
Swiss Ambassador Ivo Sieber stated: "The Geneva Conference Room marks another milestone in the intensifying relations between Switzerland and Viet Nam. From now on, Geneva as Capital of Peace is officially linked with Vietnam's capital Ha Noi."

Dr. Pham Lan Dung affirmed: "The Geneva Conference Room highlights the further expansion of bilateral relations, ranging from humanitarian assistance, development aid, trade, investment to education, training and human resource development, which are key to every country's sustainable and long-term development".

At the inauguration, Swiss Ambassador Ivo Sieber also presented Switzerland's candidacy for a non-permanent seat at the UN Security Council in 2023-2024. "After 20 years of UN membership, Switzerland is ready to take on more responsibility and further step up its longstanding commitment to international law, peace and security," he said. Switzerland wants to be "A Plus for Peace" with a strong dedication to humanity, sustainable development, multilateralism, innovation and peace.
The inauguration of the Geneva conference room is a highlight within the 50th anniversary celebrations of diplomatic relations between Switzerland and Viet Nam in 2021.
For media inquiries, please contact:
Diplomatic Academy of Viet Nam

Tel: +84 24 3834 4540

Fax: +84 24 3834 3543

Embassy of Switzerland to Viet Nam

Ms. Vu Lan Dung, Communication Officer

Tel: +84 24 39 34 65 89 (ext.819113)