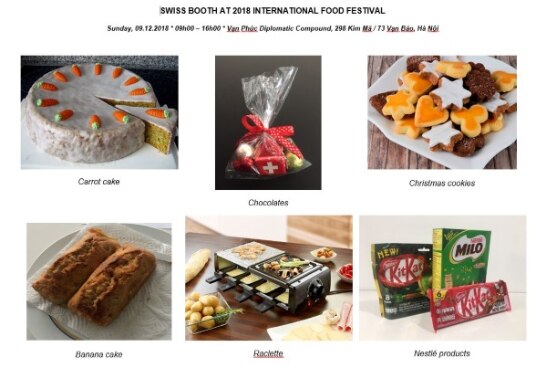 The Embassy of Switzerland in Hanoi will take part in the 6th International Food Festival 2018 organized by the Service Department for the Diplomatic Corps, Ministry of Foreign Affairs of Vietnam, on Sunday, 09 December 2018, from 09.00 to 16.00, at Vạn Phúc Diplomatic Compound, Hà Nội.
The Embassy will present and sell some authentic dishes and products from Switzerland: Raclette, Carrot Cake, Banana Cake, Christmas Cookies, Chocolates, Café Nespresso, Nestle products as Milo and Kit Kat.
All benefits from selling the food and products will be contributed for Charity Fund managed by the Ministry of Foreign Affairs of Vietnam. More than 1,7 billion VND have been raised at the previous Food Festivals and have been distributed to different charity activities.