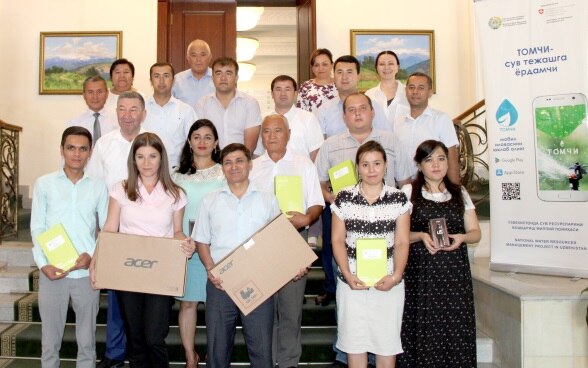 The contest was announced within the framework of the "National Water Resources Management Project in Uzbekistan", funded by the Swiss Agency for Development and Cooperation, in cooperation with the Ministry of Water Resources of Republic of Uzbekistan. It was held as part of promoting the "TOMCHI" mobile application developed by the project for improving access to information on water-saving technologies.
The mobile application was launched in November 2018. Since then, the Project had held two rounds of "TOMCHI" contests – first among farmers and water specialists, and second among students, faculty and scientists of agriculture and irrigation related educational and scientific institutions of the country.
Over 70 authors took part in this contest; journalists sent over 250 publications considered by the professional jury.
The winners of the "TOMCHI" contest received prizes for publications within the following nomination areas:
a) Internet
b) newspapers and journals
c) radio and TV
d) the photo reports.
In addition, the jury awarded two special prizes for the active dissemination of information about the "TOMCHI" Mobile Application.
***
THE MOBILE APPLICATION "TOMCHI" provides information about various irrigation water-saving technologies, both traditional and innovative. It also allows users to review local market prices, contact the main manufacturers and estimate costs of these technologies.
The developers have recently launched an updated version of the mobile application with simple and concise design. The new "TOMCHI" offers such functions as a news feed and sharing information with friends via social networks. Users can now save news and articles for easy reference and stay in touch with the "TOMCHI" team and specialists.
Additional information is available upon request to the email address tomchi@nwrmp.uz.