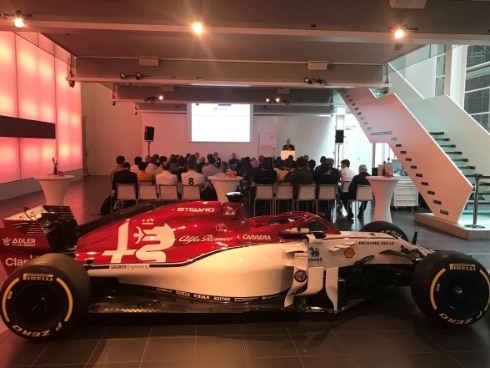 The delegation were welcomed at Sauber Group (Alfa Romeo Racing) for the export and collaboration symposium, together with top Swiss performance engineering innovators who had a chance to pitch to Sauber. All participants benefited from a detailed and fascinating factory tour which highlighted Sauber's ambitious pipeline of projects. The panel discussion, led by Alexandre Fasel, Ambassador of Switzerland to the United Kingdom, included renowned panellists David Lapworth (Chairman of the Motorsports UK Technical Committee), Adrian Goodsell (Managing Director of Racetech Motorsports Engineering), Mario Illien (Technical Director at ILMOR Engineering) and Axel Kruse (COO of Sauber Group). The industry associations and engineering companies presented the latest developments in their countries and discussed business collaboration opportunities.
Reviewing the Swiss and UK capabilities at one of the world's most innovative motorsports engineering companies was a remarkable experience both for the Swiss companies and start-ups and the international experts. The symposium created opportunities for Swiss companies to find new contexts for their products and connect with foreign markets and the international delegation which gained unique knowledge on the Swiss capability in this sector.
The programme ensured that delegates not only had the opportunity to engage with industry, but also with academia and research, benefitting from site visits to key R&D centres. From ETHZ's Composite Materials Lab, to EPFL's Electrical Systems Lab and the acclaimed Hyperloop project, the delegation witnessed why and how Switzerland regularly tops global innovation rankings.
With this mission the Swiss Business Hub team in London provided a window into the world of Swiss performance engineering highlighting not only its capability, but also the potential for collaboration. Using motorsports and its key enabling technologies as a vector, the project promoted Switzerland as an innovation leader.