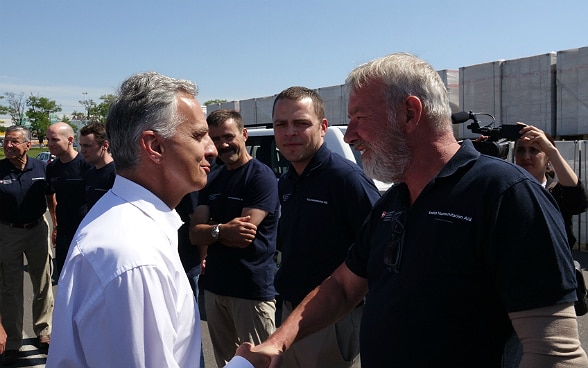 Mr Burkhalter first travelled to Mariupol in the south-east of the country, where he visited the city's main hospital. He then saw off a Swiss aid transport that will deliver medical supplies to hospitals in the region as well as chemicals that will enable the Vodadonbasa water plant to purify water to be distributed to some 4 million people.
A unique aspect of the Swiss humanitarian operation is that it provides aid on both sides of the contact line separating the areas controlled by the Ukrainian government from those that are not under government control. 85 lorries were deployed in this latest operation by Swiss Humanitarian Aid, which has already organised five such relief actions since spring 2015.
In Mariupol, a port city with a population of about 450,000 people, Mr Burkhalter also visited the city's main hospital. The Swiss Agency for Development and Cooperation (SDC) has decided to help improve the care provided in this 390-bed hospital, focusing in particular on outpatient and maternity care. The Swiss medical supplies delivered during this humanitarian aid operation will be used in particular to handle difficult births.
Mr Burkhalter later spoke with local government officials and doctors about the healthcare problems Ukraine is facing, which have been further aggravated by the conflict that is tearing the country apart. In light of the critical situation of the health sector, Switzerland has made a particular effort in this area. Since April 2015, the SDC has provided support to seven hospitals in the region – on both sides of the contact line.
Mr Burkhalter also met with Alexander Hug, a Swiss national who is deputy head of the OSCE Special Monitoring Mission to Ukraine (SMM), and with other members of the SMM. The SMM, which now comprises over 1,000 staff members, including 12 Swiss nationals, was established at the beginning of the Ukrainian conflict in 2014, while Switzerland held the chairmanship of the Organization for Security and Co-operation in Europe (OSCE).
Mr Burkhalter assured the SMM of Switzerland's support and thanked its members for the work they had carried out. He also called on the parties to the conflict to allow the SMM to carry out its mandate and to ensure the safety of its members. The SMM monitors respect for the ceasefire, reports on human rights violations and encourages dialogue on the ground to reduce tensions.
---
Address for enquiries:
Information FDFA
Bundeshaus West
CH-3003 Bern
Tel.: +41 58 462 31 53
Fax: +41 58 464 90 47
E-Mail: info@eda.admin.ch
---
Publisher: