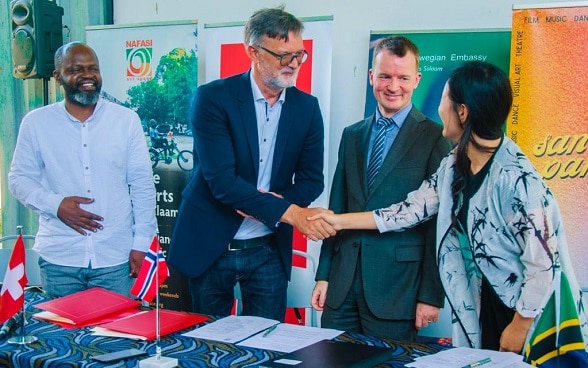 The main goal of the Cultural Programme Tanzania (TCP) is to contribute to an independent and diverse cultural scene that promotes artistic expression, strengthening social cohesion and inclusion.
Switzerland joins Norway to provide a core contribution towards the strategic plan of a local cultural organisation, Nafasi Art Space (Nafasi), to foster cultural expressions, stimulate public engagement and enhance outreach of cultural productions. Nafasi will manage an open call for proposals and provide small grants to a selected number of youth-focused innovative projects each year to enhance outreach and support artists and initiatives in other regions of Tanzania. Moreover, the Embassy will continue its support to Nafasi in building the capacities of young aspiring cultural managers through the Nafasi Academy's Curatorial Practice and Management programme.
TCP will also provide technical and financial support to promising platforms, especially those in vulnerable and underserved regions. This line of support entails institutional strengthening and capacity building to encourage access beyond major cities, bringing together audiences to experience culture at free or affordable, safe and accessible local spaces. Selected spaces will receive a one-off incubation grant to further support them in kick-starting their activities.
Switzerland has been promoting and supporting a diverse range of cultural and artistic projects in Tanzania since 2005. Switzerland's support for art and culture, in particular the promotion of an independent culture sector, seeks to strengthen civil society and promote social cohesion, freedom of expression, good governance and democracy in partner countries.
Factsheet: Tanzania Cultural Programme