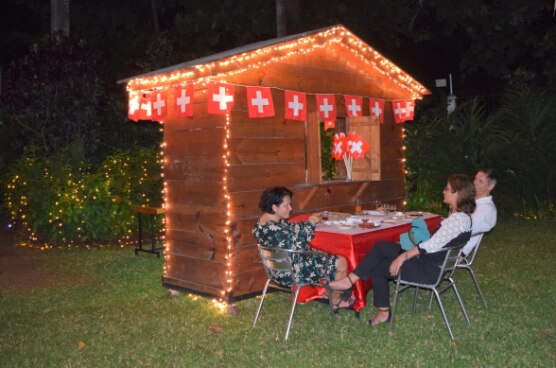 Over 250 guests attended the celebration held at the Swiss Residence with representatives from government, business, civil society, international organisations and diplomatic missions as well as the Swiss community.
The celebrations began with welcoming remarks by the Swiss Chargé d'affaires, Mr. Leo Näscher, and the message by the President of the Swiss Confederation Ueli Maurer to all Swiss nationals living abroad. The guest of honour, Deputy Minister for Foreign Affairs and East African Cooperation, Hon. Dr. Damas Ndumbaro, conveyed a congratulatory message on behalf of the government and the people of Tanzania.
The Residence was decorated with beautiful Swiss lanterns and flags of Switzerland and its 26 Cantons. Guests enjoyed Swiss raclette, wine, chocolate and other gastronomical delights.
Switzerland has been celebrating its National Day, also often referred to as the First of August, since 1891. The date was taken from the Swiss Federal Charter, which was signed 'at the beginning of the month of August 1291'. This document marked the alliance between the three Alpine cantons of Uri, Schwyz and Unterwalden, during which they swore eternal allegiance to one another.