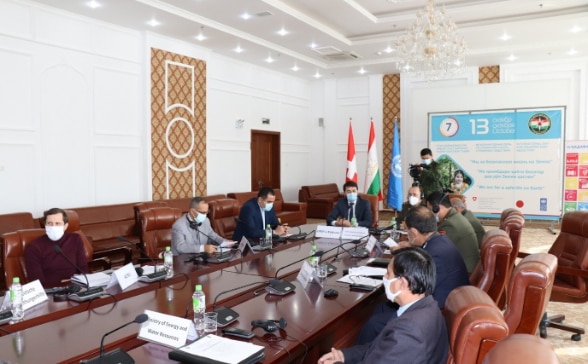 On 13 October 2020, the first round table on Improving Watershed-based Flood Risk Management and Financing Disaster Risk Reduction in Tajikistan was organized with participation of representatives from five line ministries and agencies, as well as nine international agencies and donors. Participants discussed the best option to effectively manage watershed-level flood risk and modalities for financing disaster risk reduction.
The second round table was organized with participation of tourism companies in order to improve the integration of Disaster Risk Management (DRM) into private sector. The main reason of involving entrepreneurs is to improve the integration of DRM into private sector activities and to explain about the importance of tourists' safety during the COVID-19 pandemic.
"The issue of funding disaster risk reduction measures is very critical nowadays. Such round tables and discussion reveal that the need to address disaster risk remains urgent for vulnerable communities at the regional and national levels"- stated Colonel Jamshed Kamalov, Head of Department for the Protection of Territory and Population of the Committee of Emergency Situations, and Secretariat of National Platform.
All roundtables are conducted through a combination of physical presence and online participation. This mixed modality allows for participation of partners considering the need for physical distancing due to COVID-19.
Additionally, in order to strengthen the critical thinking of children about disaster risk reduction, a drawing competition called "We are for the safe life on Earth" was launched through TV Channel Bahoriston.
The Roundtables are conducted in the frame of the project on "Strengthening Disaster Risk Governance in Tajikistan" funded by the Swiss Agency for Development and Cooperation and implemented by UNDP.
Source: UNDP Tajikistan