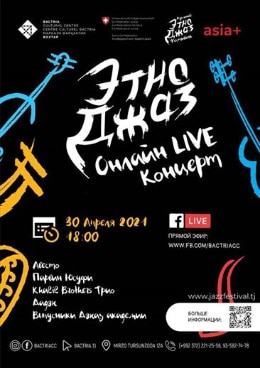 On April 30, 2021 at 18:00, the Ethno-Jazz Music Concert, as part of the Dushanbe Ethno-Jazz Festival 2021, will be livestreamed on the Zoom and Facebook through the Bactria Cultural Centre's Facebook (@bactriacc) page. The concert is the most awaited musical event and devoted to the 10th Anniversary of the International Jazz Day celebrated worldwide annually on that day.  
The event will take place at "Surush Hall" in Dushanbe and will host legendary artists such as: "Avesto", Parvin Yusufi, "Dadj", project "Khalil Brothers" trio. In addition, young and talented graduates of the "Jazz Academy 2020" (joint project with the Tajik National Conservatory of T. Sattori) will present their own musical compositions.
The live stream will start at 18:00 (GMT+5) on www.facebook.com/bactriacc  
The audience may watch the concert online through Zoom conference by pre-registering on www.bit.do/dejf2021.
The Swiss Cooperation Office in Tajikistan is the initiator and the main donor, and Bactria Cultural Center is the organizer of Dushanbe Ethno-Jazz festival.  The main information partner of the concert's live stream is media holding "Asia-Plus".