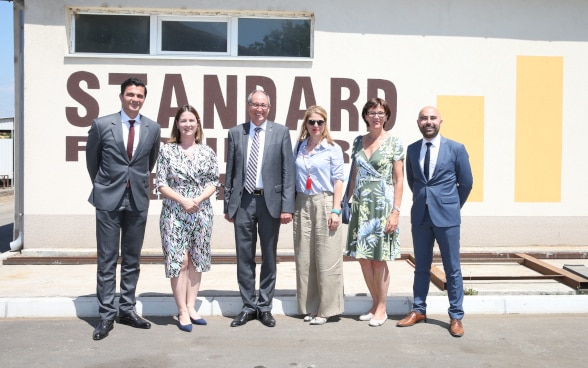 Ambassador Schmid and his delegation were received by Mr. Edin Dacic, President of the Board of the company, as well as Mr. Miodrag Perovic, the general director and Ms. Miljana Denic, quality manager. They received an introduction to the company's activities and a guided tour through the production facilities. Standard Furniture is a wood processing factory producing household articles and furniture elements made of wood. The products are exclusively sold to IKEA.
During the visit, Ambassador Schmid expressed his appreciation for Mr. Dacic's cooperation with the Swiss Embassy and its cooperation program in Serbia. An important objective of the visit was to learn how Standard Furniture is preparing to become part of the national dual education program. "As a successful entrepreneur, Mr. Dacic knows very well the importance of investing in vocational education and training and how important it is for the private sector to actively engage with the public sector in this regard. I hope that many more entrepreneurs in Serbia will follow his example" Schmid stated.
Mr. Edin Dacic thanked Ambassador Schmid for his visit and stated that today around 370 people are employed at Standard Furniture, a success made possible not at least thanks to the support of the Swiss government's start-up fund. Swiss support has also been crucial to securing advice by Swiss experts that helped the company to improve its productivity. He expressed his conviction that Swiss support to dual education in Serbia is of crucial importance for the country's further economic development.
As of school year 2021/2022 Standard Furniture will take part in a dual education program with two new profiles – carpenter and furniture technician. This year, on the initiative of the company and with the support of the Ministry of Education, a new class of 30 students specialized in furniture processing will be established in the Technical School in Cuprija.