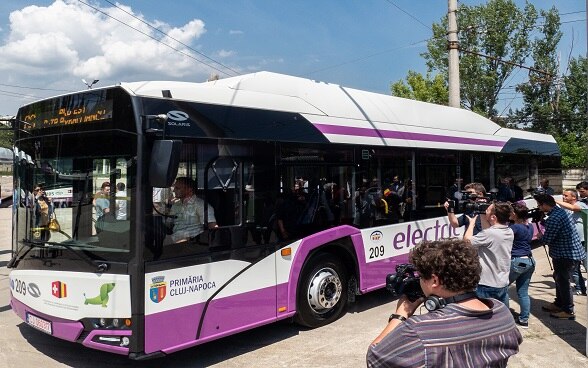 The first 10 "green" vehicles have been bought by the municipality with Swiss funds  through the Swiss Contribution for the enlarged European Union. The Swiss financing amounts to RON 27.279.917 (85% of the total project amount) and the co-financing provided by the the municipality by own funds up to RON 4.814.104 (15%). The buses are of the latest generation, 100 % electrical, equipped with Wi-Fi, air conditioning and video cameras. Electric charging will be done through fast stations during the day and through slow charging stations during the night time. This is the third project on Swiss funds implemented by the municipality of Cluj, together with the thermal rehabilitation of 2 schools and the modernization of the public lighting in the city by using LED technology. The electric buses will contribute to the reduction of carbon dioxide emissions from the conventional road transport, with a direct positive impact on the pollution in Cluj-Napoca.
The local authorities hope at increasing the number of public transport passengers at the expense of polluting transport means, rising the efficiency of surface transportation, increasing the attractiveness of the city as a tourist destination and reducing the negative impact on the environment.
The official presentation of the electric buses has been done on the occasion of the inauguration event held in Cluj on May, 31st. At the event were present the Ambassador of Switzerland, Mr. Urs Herren, the Secretary of State within the Ministry of Public Finance, Mr. Eleodor Mandres, the Mayor of Cluj, Mr. Emil Boc, other governmental and local authorities, media, as well as the citizens of Cluj-Napoca. On the occasion of addressing to the audience, the ambassador of Switzerland underlined the importance Switzerland gives to the solutions protecting the environment, with respect to the sustainable development and energetic efficiency.