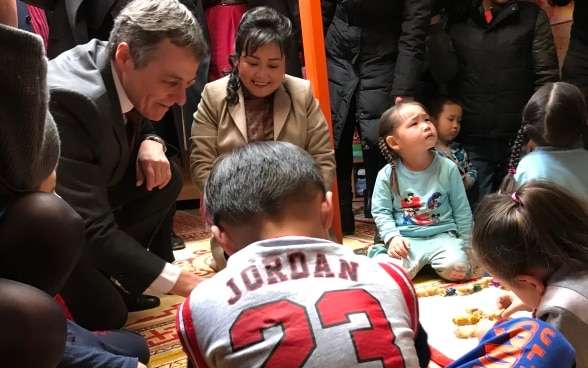 The readmission agreement, which was negotiated by the State Secretariat for Migration, was signed on its behalf by Mr Cassis in his capacity as head of the Federal Department of Foreign Affairs (FDFA). Around 100 of the 1,000 Mongolian nationals living in Switzerland may be affected. The agreement is intended to facilitate and speed up the return of unauthorised persons residing in Switzerland.
The second agreement concerns a future visa-exemption arrangement for holders of diplomatic and official passports wishing to travel to either country. "Signing a visa facilitation agreement is a step toward greater mobility and will strengthen relations between our two countries," said Mr Cassis during a press briefing.
Mongolia is a key player that acts as a bridge between Russia and China. One of Switzerland's aims is to help this fledgling democracy grow. "And we have another thing in common," according to Mr Cassis: "our two countries, which uphold global peace and security, are candidates for a seat on the United Nations Security Council in 2023 and 2024. I hope we will both succeed in this and be able to work together." 
Mr Cassis also met with the Mongolian finance minister, Chimed Khurelbaatar, and paid a courtesy visit to President Battulga Khaltmaa. During these meetings, bilateral relations and current international affairs were discussed. Mr Cassis was particularly interested in the Mongolian take on China's Belt and Road initiative to revive the ancient Silk Road.
Swiss Development Cooperation has been active in Mongolia since 2001. Mr Cassis announced that there would be a new cooperation strategy from 2018 to 2021, building on Switzerland's current priorities in Mongolia – good governance, agriculture and the environment, and on-the-job training. The new programme will also step up efforts to combat the effects of air pollution and its impact on people's health.
During his stay in Mongolia, Mr Cassis was able to see the work of the Swiss Agency for Development and Cooperation (SDC) first-hand. He visited one of the approximately 20 schools and kindergartens in Ulaanbaatar that will been renovated thanks to a Swiss project to increase energy efficiency. Mr Cassis also went to a vocational school where young Mongolians can learn a number of skilled trades. On the last day of his trip on Friday, he is scheduled to visit a pioneering project which contributed to improve the livelihood of over 60,000 herder families through the promotion of sustainable rangeland management, better animal health and market access of livestock products. He will also visit a mercury-free gold processing plant introduced by the Sustainable Artisanal Mining Project (SAM). The SAM works to improve the legal framework for small-scale mining, which is a livelihood source for an estimated 80,000 rural unemployed.
Switzerland has been contributing to economic development, poverty alleviation and democratisation in Mongolia since 2001, and with success – such as one of its projects to promote and improve potato production, which has made the country 100 percent self-sufficient in this area.
Another example of successful cooperation in democratisation and good governance is the nationwide network of more than 150 one-stop shops, initiated by Switzerland and now being run by the Mongolian government.  The goal of the one-stop shops is to provide a range of services in one central location, which brings public administrative services closer to the citizens and reduce red tapes.
---
Further information:
SDC : Swiss contribution in Mongolia

---
Address for enquiries:
Information FDFA
Bundeshaus West
CH-3003 Bern
Tel.: +41 58 462 31 53
Fax: +41 58 464 90 47
E-Mail: info@eda.admin.ch
---
Publisher: